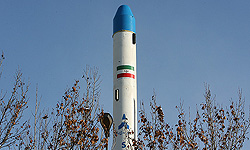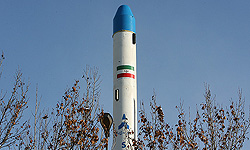 Head of the Iranian Space Agency (ISA) Hamid Fazeli lauded Iran's achievements in space fields, adding that a number of countries, including China, are seeking to work with Tehran in space projects.
"The Islamic Republic has made invaluable achievements in the field of space, which are bound to grow through the endeavors of Iranian scientists," Fazeli said.
A number of other Asian countries have expressed readiness to collaborate with the Islamic Republic in its space projects, Fazeli noted on Thursday.
The Islamic republic news agency quoted the official as saying that China has sought Iran's assistance for the making of navigational satellites.
He further pointed out that the country now eyes deep space explorations and made a reference to ISA's efforts to increase the participation of private sector in order to boost Iran's space plans.
Earlier this month, Deputy Head of the Iranian Space Agency for Technology Mohammad Mardani said that Iran has prepared the necessary technological grounds to send man into space by 2022.
Mardani also announced that Iranian scientists are currently working on the designs of 10 to 15 more Iran-made satellites.
"We have plans for the next 15 years and now we are designing and building a satellite for the 36,000km orbit which will provide service in telecommunication, radio and TV fields," Mardani added.
Iran has recently taken wide strides in aerospace. The country sent the first biocapsule of living creatures into space in February, using its home-made Kavoshgar-3 (Explorer-3) carrier.
Omid (hope) was Iran's first research satellite that was designed for gathering information and testing equipment. After orbiting for three months, Omid successfully completed its mission without any problems. It completed more than 700 orbits over seven weeks and reentered the earth's atmosphere on April 25, 2009.
After launching Omid, Tehran unveiled three new satellites called Tolou, Mesbah II and Navid, respectively. Iran has also unveiled its latest achievements in designing and producing satellite carriers very recently.
Also, Iran has recently unveiled a new generation of home-made satellites and a new satellite carrier called Simorgh (Phoenix).
Iran is one of the 24 founding members of the United Nations' Committee on the Peaceful Uses of Outer Space (UNCOPUOS), which was set up in 1959.