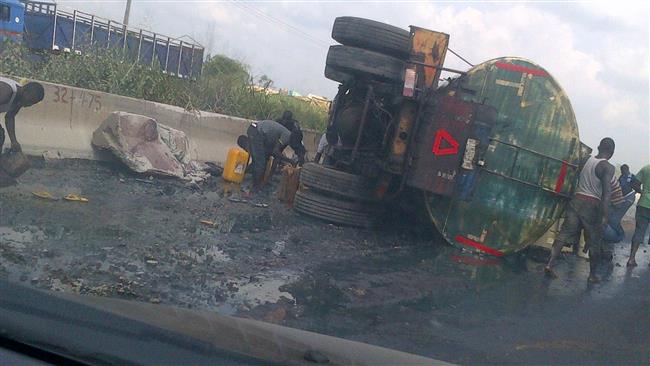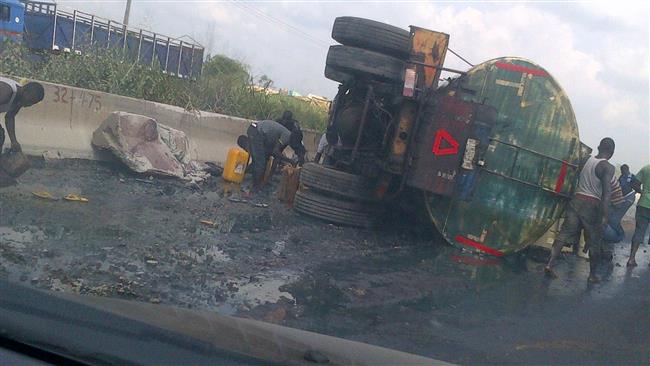 At least 100 people have been killed in South Sudan after an oil tanker veers off the road and explodes.
Ateny Wek Ateny, a presidential spokesman, said on Thursday that the incident happened the day before as people were collecting fuel from the tanker that had spun off the road.
The spokesman had earlier put the death toll at 85 but regional officials have since revised the figure up to more than 100.
The truck had been travelling to South Sudan's Western Equatoria region.
Around 50 others have also been seriously injured.
Meanwhile, Charles Kisagna, the minister of information in Western Equatoria, said the death toll is expected to rise as some of the injured are said to be in critical condition.
"We don't have medical equipment and these people may not survive because we do not have the facilities to treat the highly burnt people," media outlets quoted him as saying.
Such incidents have happened before across South Sudan, which has almost no tarmac roads. The fuel tankers often have to travel long distances along potholed roads and pass through poor communities.
South Sudanese officials have also confirmed that the latest incident was not related to the ongoing civil war in the country.
New nation in conflict
South Sudan, one of Africa's poorest nations, has been mired in conflict since December 2013.
In August, President Salva Kiir and Riek Machar, the current rebel leader and former vice president, signed a ceasefire agreement aimed at ending the conflict in the landlocked African country.
Since then, there have been instances of ceasefire violations and sporadic clashes, with both sides accusing the other of violating the truce.
In a separate development on Thursday, monitors from the regional East Africa bloc, the Intergovernmental Authority on Development (IGAD), accused both sides of violating the deal.
The regional group said in a report that South Sudanese army helicopters had fired on rebel positions on September 2.
According to IGAD, monitors "witnessed the helicopter gunships flying towards and engaging" rebel positions outside Malakal, the capital of Upper Nile State.
The report added that following the attack, army forces moved across the west bank of the Nile to launch a ground offensive.
The group also blamed rebel forces for launching attacks on the village of Nhialdiu in Unity State on August 23.