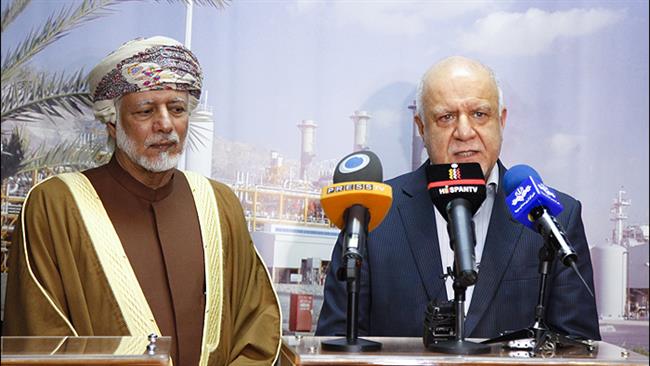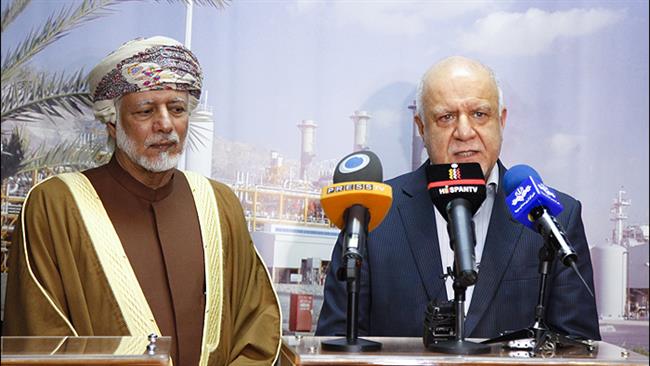 Oman says studies on an undersea gas pipeline to carry Iranian gas to the Persian Gulf sultanate will conclude in the next six months. 
Oman's Foreign Minister Yusuf bin Alawi discussed the plan with Iranian Minister of Petroleum Bijan Zangeneh in Tehran on Sunday, describing it as the most important shared project between the two countries.
The $60 billion deal was concluded during President Hassan Rouhani's visit to Muscat in 2013 to ship 20 million cubic meters per day of Iranian gas to Oman for a period of 25 years, the IRNA news agency said.
"Expert and commercial studies of the pipeline for exports of Iranian gas to Oman are being carried out and will conclude in the next six months," IRNA quoted bin Alawi as saying after talks with Zangeneh.
"Given favorable relations of the two countries, Oman is interested in Iranian gas and okay with all the details of the plan," he added.
The two countries signed another deal in 2007 to build an LNG plant in Oman to process the Iranian gas.
"Based on the agreement, Iranian gas will be exported to global markets via Oman," bin Alawi said.
Oman's LNG spare capacity 
An Iranian delegation will visit Oman soon to discuss the gas price and other issues, Managing Director of the National Iranian Gas Export Company (NIGEC) Alireza Kameli said.
"Iran's plan is to reach an agreement with Oman on the LNG tooling fee," he said, adding Oman had a spare production capacity for 2.5-3.5 million tonnes of LNG which Iran can use.
"If the tooling fee for LNG conversion is rational, the gas price can be set on that basis," he said. Kameli said Iran had presented its proposals to the Omanis and was waiting for an answer.
The Omani minister said the topic of his talks with Zangeneh were reviewing their plans in the oil, gas and petrochemical sectors and prospects of their economic, trade and oil cooperation and expanding it.
"In view of Iran's position in the oil and gas sector, Oman is calling for expansion of relations in this field," he added.
Zangeneh said the two sides discussed shared investment in refining, oil storage, and expanding the petrochemical sector in both countries.
"In this meeting we discussed shared investment in refining, oil storage, and expanding the petrochemical sector in both countries," the Ministry of Petroleum' Shana news agency quoted him as saying.
Last month, Oman said it expected the pipeline to be completed faster after the lifting of sanctions on Iran.
Regional markets a priority 
Bin Alawi said Oman's terminals and coasts were open to maritime cooperation with Iran, adding the country's proposals had been welcomed by Iranian authorities.
Kameli said in January that around 30 percent of the gas that Iran planned to export to Oman would be used for producing LNG.
Some of the supply would also be used to meet Oman's expanding gas demand.
Zangeneh has said Oman had undertaken to pay the entire cost of the pipeline and the related infrastructure.
"Gas exports to Oman and entry into its retail market will make it possible to sell the Iranian natural gas to the region, especially Asian countries," he has already said.
Kameli said last July that the Persian Gulf littoral states were Iran's top priority for gas exports in the face of requests by European companies.