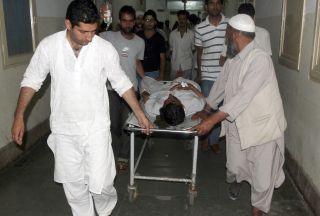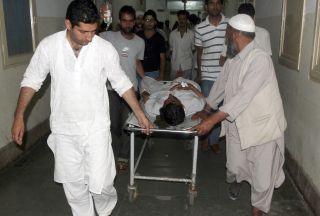 Indian forces in Kashmir have opened fire on anti-government protesters in the northern town of Baramulla, killing one person and injuring 13 others.
Spontaneous demonstrations were held on Monday after rescue workers found the body of a missing protester allegedly drowned by security forces on Saturday. A police report said the body was fished out on Monday.
Fayaz Ahmad Khanday was killed by a police bullet in his chest at the funeral procession of the drowned youth.
In addition, a youth who was critically injured was transferred to a hospital in Srinagar.
Earlier in the day, two persons were killed and four wounded after a police bus hit their car in the Batamaloo locality.
After the incident, large numbers of men and women spilled out into the streets calling for the arrest of the bus driver, local media reported.
Police used force to disperse the protesters and thrashed media people covering the incident.
Sweed Bashir, a cameraman of the Mouj-Kasheer network, got a broken leg in the police action.
The police later imposed restrictions in the area.
Meanwhile, a senior militant commander was killed in a gunfight with security forces in Indian-administered Kashmir, the IANS news agency reported on Monday.
The militant, identified as Abu Zarar, a Pakistani national belonging to the Lashkar-e-Taiba (LeT) group, was shot in the state's northern district of Bandipora, the report added.