North America
One fatally shot as Trump supporters, protesters clash in Portland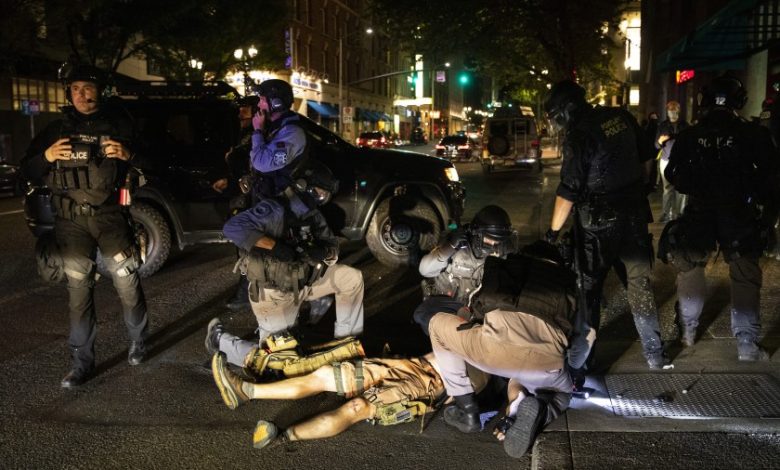 A person has been shot to death in the US city of Portland, Oregon, after clashes broke out between Black Lives Matter protesters and a caravan of President Donald Trump's supporters.
Police and local media reports said the fatality took place after a long caravan of vehicles, including hundreds of trucks full of Trump supporters, entered downtown Portland late on Saturday and led to fights, disturbances and collisions.
"[Police] responded and located a victim with a gunshot wound to the chest. Medical responded and determined that the victim was deceased," Portland police said in a statement, adding that a "homicide investigation" was underway.
The New York Times reported that supporters of Trump and counter-protesters engaged in skirmishes on the streets, with people shooting paint ball guns from the beds of pickup trucks and protesters throwing objects back at them.
In another statement released early Sunday, Portland police acknowledged videos circulating on social media that purportedly showed the shooting and called for patience from investigators before drawing conclusions regarding the incident.
"If anyone can provide information about this case, I ask them to please reach out to our detectives," Police Chief Chuck Lovell said. "This violence is completely unacceptable and we are working diligently to find and apprehend the individual or individuals responsible."
Elaborating on the circumstances surrounding the shooting incident, police said there was "sporadic fighting and vandalism" as Trump's supporters moved downtown and clashed with protesters against racial injustice and police violence against African Americans in Portland late that evening.
Ten people were taken into custody and are facing charges including disorderly conduct and reckless burning, police added.
Portland has been the scene of daily protests since the May 25 police killing of unarmed African American George Floyd in Minneapolis.
The 46-year-old died after a white officer knelt on his neck and pinned him to the ground for nine minutes in Minneapolis, Minnesota.
Tensions in the city intensified in July after the Trump administration deployed federal agents to crack down on the protests.
Portland Mayor Ted Wheeler said in an open letter to the Republican president on Friday to keep federal troops away from the US city.
"We don't need your politics of division and demagoguery," he said. "Portlanders are onto you. We have already seen your reckless disregard for human life in your bumbling response to the COVID pandemic. And we know you've reached the conclusion that images of violence or vandalism are your only ticket to reelection."
Floyd's death ignited the most widespread civil unrest in the US in decades and unleashed protests against police brutality and for racial justice in America and many world countries, rejuvenating the Black Lives Matter movement.
The police shooting of Jacob Blake in Kenosha, Wisconsin, also rekindled the flames of protests across the US last week, with human rights activists demanding accountability for the officers involved.
US police shot Blake in the back multiple times in front of three of his children in Kenosha last Sunday.
The shooting of the unarmed 29-year-old, which is said to have left him paralyzed from the waist down, has since sparked violent rallies in Kenosha as well as other cities across the United States, with protesters setting buildings and cars on fire.
Trump, who has taken a hardline stance against the protests, is slated to visit Kenosha on Tuesday to meet law enforcement officials and assess damage caused during demonstrations.