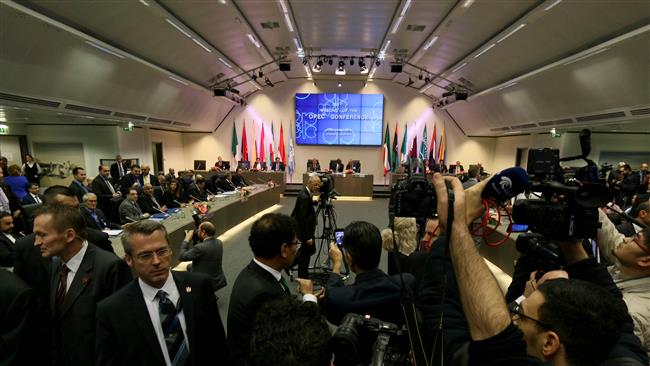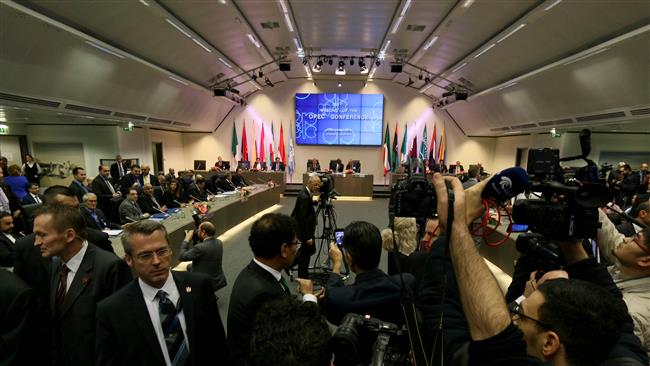 The Organization of Petroleum-Exporting Countries (OPEC) says it has decided against cutting its oil output aimed at ending a months-long slump in global oil prices. 
The announcement was made by OPEC's president, Emmanuel Ibe Kachikwu, following a meeting of the organizations member states in the Austrian city of Vienna on Friday.
The meeting was held to explore ways of lifting languishing prices and turning the global oil market around.
There was no mention of a new production ceiling in the final statement of the meeting, apparently permitting member states to keep producing oil at current rates.
Earlier, sources said OPEC had stuck with its policy of producing near-record volumes of oil, taking no measures to reduce one of the worst crude gluts in history which has driven down prices, Reuters reported.
The group, which produces a third of global oil, decided to increase its collective output ceiling to 31.5 million barrels per day (bpd) from the previous 30 million, the two OPEC sources said, in a move that effectively acknowledged that members are pumping well in excess of the current ceiling.
Speaking at the end of the Vienna meeting on Friday, Iranian Petroleum Minister Bijan Zangeneh said the talks ended without a concrete result, adding that the participants only made a decision on the replacement of OPEC Secretary-General Abdullah el-Badri.
"Until a new secretary-general is elected, al-Badri will temporarily keep this position for a seven-month period starting January 2016," the Iranian petroleum minister said.
Ahead of the meeting, Zanganeh rejected reported calls by some OPEC peers to delay a decision to increase Iran's oil production after the US-led sanctions against the country are removed.
Zangeneh once again emphasized that the Islamic Republic would increase its oil production by at least 0.5 million barrels per day after the lifting of the sanctions which he said could occur in early 2016. He added that Iran's output will rise to one million barrels per day in a later phase to reach a total of around 3.8-3.9 million barrels per day.
The Iranian minister also stressed that Tehran was ready to negotiate a ceiling for its production, but after it makes a "full return to the market."
Meanwhile, Saudi Arabia and Persian Gulf Arab members have defied calls to lower oil production, while other OPEC nations, notably Venezuela, Ecuador and Algeria, favor a cut to help boost prices, and in turn their badly-hit revenues.
Oil prices have plunged by about 60 percent in a year. However, OPEC member states decided, at their meeting in June, to keep the policy unchanged despite low oil prices.
OPEC has 12 member states, namely Iran, Iraq, Algeria, Angola, Ecuador, Kuwait, Libya, Nigeria, Qatar, Saudi Arabia, the United Arab Emirates, and Venezuela.