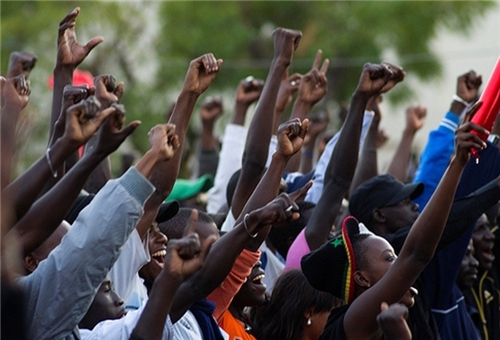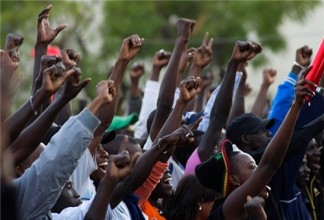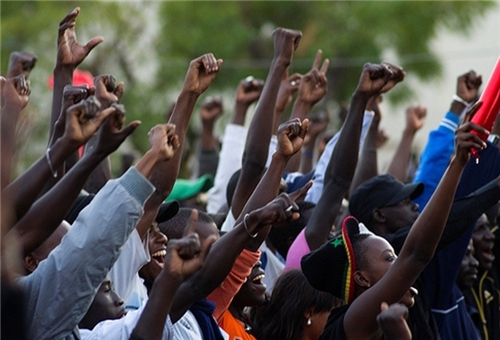 Hundreds of South Africans gathered in Pretoria on Friday to protest against the upcoming visit by US President Barack Obama.
Opponents to the visit launched the No You Can't Obama Campaign (Nobama) to demand the United States stop its aggressive policy leading to crimes against humanity in the Iraq and Afghanistan wars, the Middle-East conflict, globalization and global warming.
Obama is due to land at the Waterkloof Air Force Base near Pretoria Friday evening on a three-day visit. It is Obama's second visit to South Africa, but his first as US president.
The protest was staged at the Caledonian Sports Field not far from the airport where Obama's plane will land. A similar protest will take place before the US Embassy in Pretoria, organizers said, Xinhua reported.
On Saturday afternoon, when Obama addresses students at the University of Johannesburg (UJ) Soweto campus, he will be confronted with a massive protest, according to a statement issued by the Nobama campaign.
The campaign, along with students from the UJ, South African Students Congress and the Young Communist League, will be protesting the university's "poor and undemocratic" decision to award Obama an honorary doctorate.
Meanwhile, the Congress of South African Trade Unions (COSATU) is mobilizing all workers "to actively participate" in the planned protests against Obama's visit.
The national union federation also urged other ruling alliance members — the African National Congress (ANC) and the South African Communist Party (SACP) — to participate in the demonstration.
COSATU International Relations Secretary Bongani Masuku said the protest will be held to demand an end to the US "warmongering".
"COSATU joins the millions of people and workers the world over, particularly on the African continent and in South Africa, who are outraged at the horrifying record of the US foreign policy in the world," Masuku said in Johannesburg.
The public reaction to Obama's visit is a sharp contrast to the attitude of the South African government which calls the visit "historic".
Obama will travel to Tanzania after winding up his visit to South Africa on Sunday. He arrived late Wednesday in Senegal to kick off his three-nation African trip.