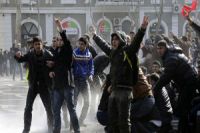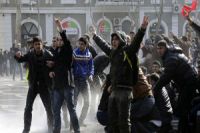 Several thousands of opposition protesters in Azerbaijan have held a rally to demand a free and fair presidential election scheduled for October.
During Sunday's rally which was held outside the capital Baku, supporters of Azerbaijan's main opposition coalition, the National Council of Democratic Forces, waved banners and chanted slogans in support of opposition candidate Rustam Ibragimbekov.
Ibragimbekov, 74, is set to challenge incumbent President Ilham Aliyev in the upcoming presidential poll scheduled for October 9.
The demonstrators also called for the release of political prisoners and an end to pressure against anti-government activists and groups.
Azerbaijani police arrested several people during the rally that was sanctioned by mayor's office but only for an obscure location about 10 kilometers (six miles) from the city center.
Ibragimbekov was chosen in July as a presidential candidate by the National Council of Democratic Forces to face Aliyev.
The Azerbaijani government usually meets any display of public dissatisfaction or political dissent in the oil-rich nation with a tough response.