World News
OSCE says more monitors held in eastern Ukraine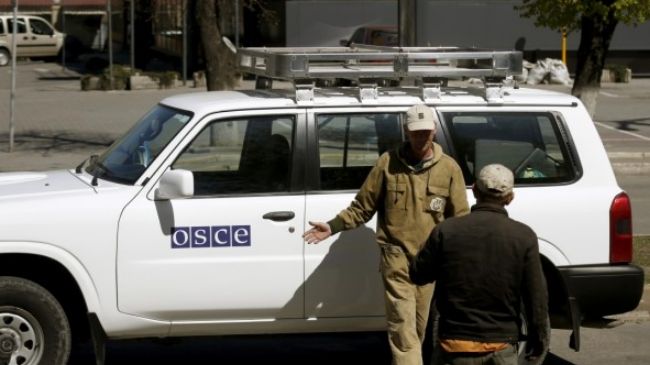 The Organization for Security and Cooperation in Europe (OSCE) says pro-Russians have detained another group of its observers in eastern Ukraine.
The Vienna-based security body said Friday that the team was taken by armed men in the town of Severodonetsk, located 100 kilometers (62 miles) north of the city of Lugansk.
The OSCE's special monitoring mission for Ukraine posted a statement on Facebook, saying the team of four international monitors along with a Ukrainian translator, was travelling in two cars when the body lost contact with them on Thursday evening.
In addition, the OSCE said another four of its members, who were detained by pro-Russia activists in Donetsk region on May 26, are still missing.
This is while earlier on Friday, Alexei Chmilenko, a leader of self-proclaimed Lugansk People's Republic, said the first group of four-member OSCE observers – a Danish, an Estonian, a Turkish and a Swiss national – has been freed.
Chmilenko said the incident should be a lesson for the outsiders not to enter the region without first seeking permission from authorities.
The OSCE observers were deployed to Ukraine to monitor the security situation there following Crimea's union with Russia in March. They also observed the presidential election in the Eastern European country, which was held on May 25.
The Lugansk region along with Donetsk declared independence on May 12 following separate local referendums in which the regions' residents voted overwhelmingly in favor of independence from Kiev.
Tensions heightened in the two eastern regions after Kiev authorities launched a military offensive in mid-April there in a bid to root out pro-Russia protests.