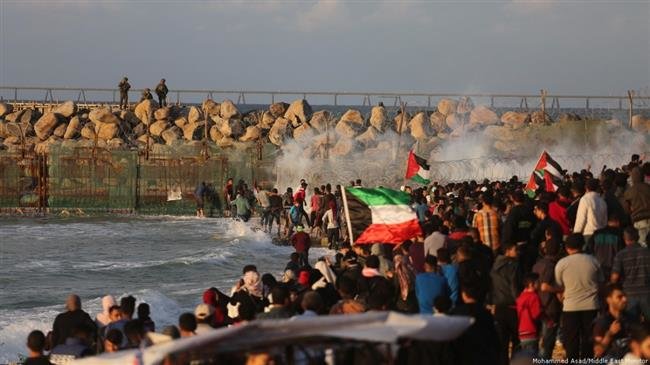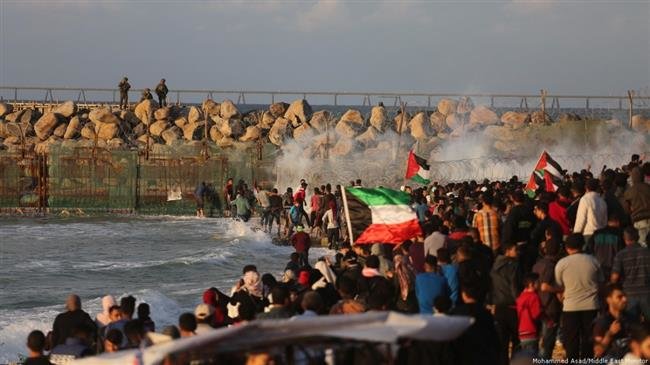 Over 20 Palestinians have been injured by Israeli forces on the seashore in the northern Gaza Strip when clashes broke out during a demonstration against Tel Aviv's decade-long maritime blockade on the coastal enclave.
On Monday, Israeli forces fired tear gas and live ammunition at the crowd during the protest which was held in support of a new flotilla titled 'Freedom Ship 15' that set sail from the port of Gaza in an attempt to break the Israeli siege .
Nearly 40 fishing boats reportedly joined the flotilla, which was organized by Gaza's National Committee for Breaking the Siege. The flotilla sailed to the northern coastal border of the Gaza Strip, but was reportedly forced to return to shore by Israeli forces.
Tensions have been running high near the fence separating the besieged Gaza Strip from the occupied territories since March 30, which marked the start of a series of protests dubbed "The Great March of Return." Palestinian protesters demand the right to return for those driven out of their homeland.
Organizers of Monday's protest rally said "the march of return will not stop until the fulfillment of all its goals, first and foremost the lifting of the siege completely from the Gaza Strip and end the suffering of two million besieged Palestinians."
More than 180 Palestinians have been killed by Israeli forces since late March. Nearly 20,000 Palestinians have also sustained injuries.
The Gaza clashes reached their peak on May 14, on the eve of the 70th anniversary of Nakba Day (Day of Catastrophe), which coincided this year with the US embassy relocation from Tel Aviv to occupied East Jerusalem al-Quds.
The Gaza Strip has been under an Israeli siege since June 2007. The blockade has caused a decline in the standards of living as well as unprecedented levels of unemployment and unrelenting poverty.
The Israeli regime denies about 1.8 million people in Gaza their basic rights, such as freedom of movement, jobs with proper wages as well as adequate healthcare and education.