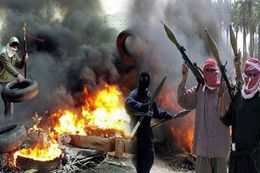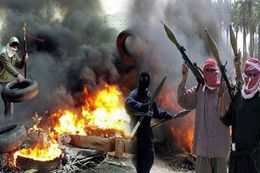 Over twenty foreign-backed militant groups fighting against the Syrian government have rejected the planned Geneva 2 conference aimed at resolving the crisis in Syria.
militants
"We announce that the Geneva 2 conference is not, nor will it ever be our people's choice," the groups said in a statement read out by the Suqour al-Sham (Falcons of the Levant) Brigade chief, Ahmed Eissa al-Sheikh, in a video posted online on Sunday.
The militant groups also warned that anyone who attends the Geneva peace talks would be committing "treason, and … would have to answer for it before our courts."
The joint declaration comes as divisions are deepening among foreign-sponsored Syrian opposition groups over their participation in the Geneva 2 conference planned for November.
The so-called Syrian National Coalition is to meet on November 9 to decide whether to take part in the peace talks.
Meanwhile, UN-Arab League Special Envoy to Syria Lakhdar Brahimi is preparing to travel to Damascus on Monday as part of a regional tour to muster support for the Geneva meeting.
On Saturday, he said in Tehran that Iran's participation in the Geneva 2 talks is "necessary."
Brahimi had visited Turkey, Jordan, Iraq, Egypt, Kuwait, Oman and Qatar before travelling to Iran in order to attract their support for the talks.