Saudi Arabia
Yemen
Over 30 killed in zionist Saudi airstrike in Yemen; World deaf, blind as in Gaza Massacres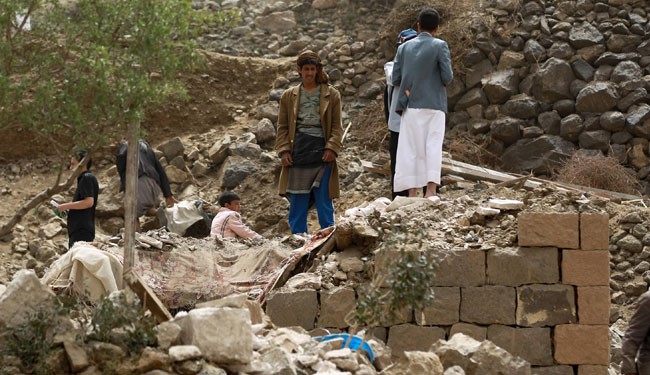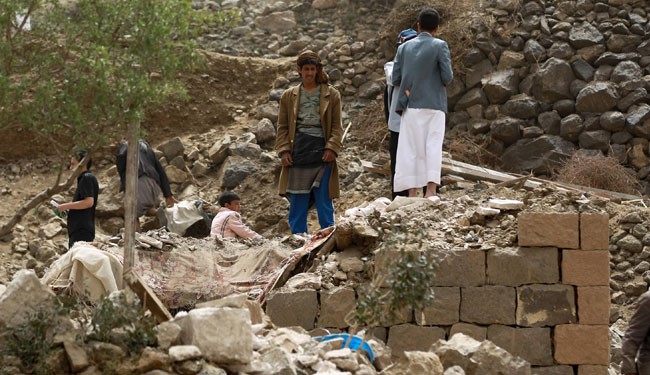 Some 32 civilians were killed on Thursday in a series of Saudi-led air raids north of the Yemeni capital Sana'a, local journalists told dpa.
The Saudi attack people in Amran province, which is controlled by the Houthis.Houses and a school in the town of Houth, 100 kilometres north of the capital, were also hit.
Saudi Arabia and its allies began airstrikes in late March after the Houthis closed in on President Abd Rabu Mansour Hadi's fled the country.
The World Health Organization has put the total death toll 731 between March 19 and April 12.
Human Rights Watch called on the coalition on Wednesday to investigate the killing of at least 31 people in airstrikes on a dairy factory near the coastal city of Hodeida on March 31.
The escalating conflict in Yemen has raised fears of a humanitarian catastrophe in one of the poorest countries of the Arab world.
Supporters of the Shiite Huthi movement raise their weapons during a demonstration in Sanaa on April 10, 2015 against the Saudi-led military "Decisive Storm" air campaign targeting Huthi rebels and their allies in Yemen. AFP PHOTO
UN bodies have warned that food supplies are at risk and that over 120,000 people have been displaced by the recent upsurge in fighting.
The Yemeni branch of al-Qaeda has also seized the opportunity to capture the south-eastern city of Mukalla, capital of Hadhramaut province.
Meanwhile today military officials and residents say al-Qaida has taken control of a major airport, a sea port and an oil terminal in southern Yemen after brief clashes with troops.
The officials said al-Qaida fighters clashed Thursday with members of one of Yemen's largest infantry brigades outside Mukalla, a city the militants overran earlier this month.