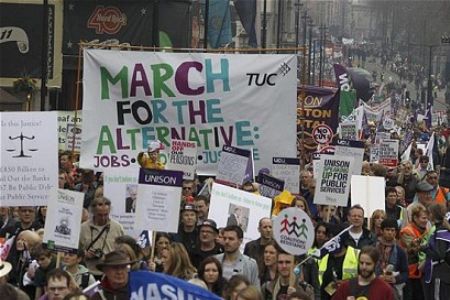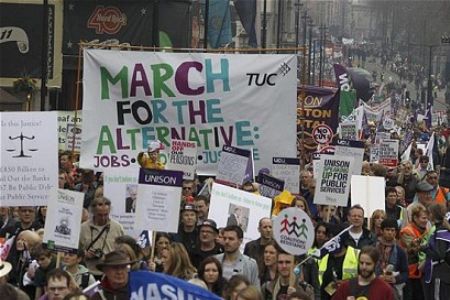 Hundreds of thousands of British opposing to the coalition government's budget cuts are marching in London streets, chanting for an alternative to the government's austerity cuts.
Tens of thousands of teachers, council staff, nurses, students, National Health Service (NHS) officials and many others who are angry at the public cut plans, mounting rates of unemployment, tax rises, pay cuts and pension reforms are partaking in the demonstration.
About 800 coaches were planned to get people from across the country to London to participate in the rally, which is considered as the biggest public reaction against government's spending cuts since it took office in May 2010 following the general elections. The protesters began marching from Victoria Embankment to Hyde Park.
Hundreds of people from North East traveled to London on Saturday morning to join the London protest. Demonstrators from Aberystwyth to Aberdeen and from Penzance to Perth also arrived in London to shout with the Londoners at the spending cuts.
British Education Secretary Michael Gove claimed that he could understand people's anger, but "the difficulty that we have as the government inheriting a terrible economic mess is that we have to take steps to bring the public finances back into balance."
Unite union's General Secretary Len McCluskey said the coalition government has exaggerated about the level of the deficit.
Describing his economic plan, McCluskey said, "Our alternative is to concentrate on economic growth through tax fairness so, for example, if the government was brave enough, it would tackle the tax avoidance that robs the British taxpayer of a minimum of £25bn a year."
Around 100 legal observers are monitoring the policing of the protest, and there are more representatives from other human rights groups on hand to offer advice to demonstrators.