Syria
Over 50 Terrorists Killed in Syrian Army Ambush in Hama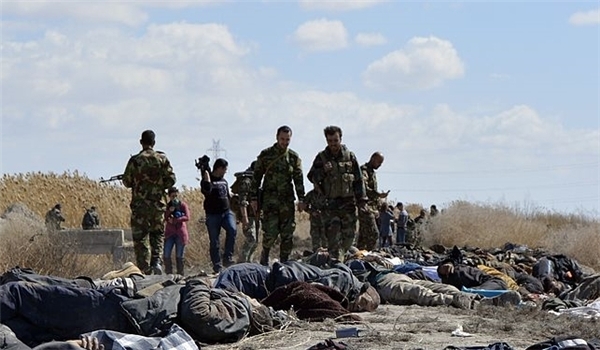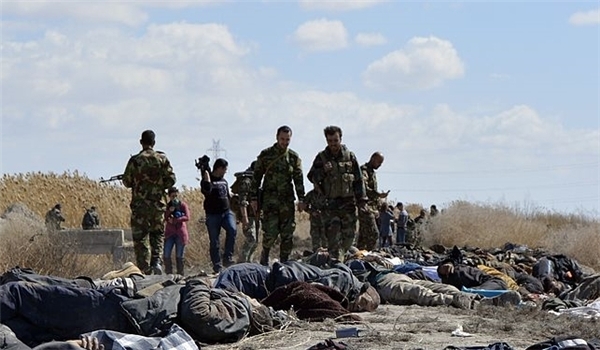 Terrorist groups in different parts of Hama province were ambushed by the Syrian army troops, battlefield sources said Tuesday, adding that the army attack claimed the lives of over 50 militants and wounded many others.
14 terrorists were killed and dozens of others wounded in the Northwestern outskirts of Hama province when they came under the Syrian forces' attack on Tuesday.
The Syrian army started its ambush with blowing up a number of explosive devices stashed by terrorists in the area.
Also 37 al-Nusra Front terrorists were killed when the Syrian army and popular forces attacked and destroyed their headquarters in al-Tamana, Latmin and Murak in the outskirts of Hama.
On Tuesday, the Syrian army troops, conducting a special operation, severely pounded a gathering of Takfiri terrorists in a village in the Northern parts of Hama province, killing dozens of militants and destroying their military hardware.
The attack took place in Sirmaniyah village in the Northwestern province of Hama, where the army troops were engaged in fierce clashes with Jeish al-Fatah Takfiri terrorists.
In another development in Hama province, the Syrian army soldiers, backed by popular defense forces, keeping on their assaults on the Wahhabi-Takfiri terrorists, hit their positions and hideouts on the outskirts of al-Ghab plain.
During the operation scores of militants were annihilated by the Syrian soldiers and their weapons and ammunition were destroyed.
The Syrian army troops and their popular allied forces continued to advance against the militant groups in Hama province and retook several villages, during the latest round of the operations in the region.
The terrorist groups also sustained major losses in the Syrian army attacks in the Northern part of Hama province during recent days.