Middle East
Syria
Over 800 ISIL Terrorists Join Al-Nusra for Battle against Syrian Army in Hama
More than 800 ISIL terrorists, including 300 suicide attackers, have arrived in Northern Hama regions to join Tahrir al-Sham al-Hay'at (the Levant Liberation Board or the Al-Nusra Front) in the battle with the Syrian Army, Arab media reported on Tuesday.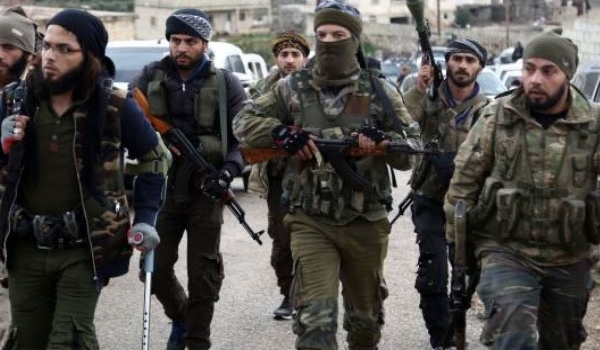 The Arabic-language website of the Russian Sputnik news agency quoted local sources in Hama as saying that about 500 Ansar al-Tawhid terrorists affiliated to the ISIL terrorist group have entered battlefronts in al-Jobin and Tal al-Melh regions in Northern Hama to attack the Syrian Army's military positions in al-Hamamiat and Karnaz areas.
The sources underlined that Ansar al-Tawhid terrorists have stressed that they would fight in the battlefield only under their own flag.
Meantime, more than 300 ISIL suicide attackers, most of whom are Chinese Igur, have jointed Jeish al-Izza terrorists in al-Latamaneh, Kafar Zita and al-Zuka in Jisr al-Shoghour region in Southwestern Idlib.
On Monday, the Damascus Army backed by the Syrian and Russian air forces warded off several attacks launched by Tahrir al-Sham al-Hay'at in several regions to regain the regions they have already lost in Northern Hama, killing more than 130 terrorists.
"The Syrian Army in an ambush operation warded off a massive attack by Tahrir al-Sham terrorists from the town of al-Jamleh in Northern Hama, killing at least 30 terrorists and destroying a bomb-laden vehicle of Turkistan party," Sputnik quoted a military source as saying.
The source pointed to the continuation of clashes between the Syrian Army and terrorists in al-Hamamiat-Karnaz axis in Northern Hama, and said the Syrian Army troops have killed over 100 terrorists in that axis and reinforced all their military positions there by restoring security to the surrounding areas of both towns.
The clashes also continued for the third day in battlefronts of Tal al-Melh and al-Jobin.
Meantime, the Russian and Syrian warplanes pounded the military positions and movements of terrorists in Khan Sheikhoun, al-Latameneh, Kafar Zita, al-Zuka, al-Arbaeen, Kafar Nubl, Tarmeleh and Hass in Southern Idlib and Northern Hama, destroying a large number of their military vehicles and hardware.
The Arabic-language service of Russia Today also reported that 17 military and armored vehicles of the terrorists were destroyed and several foreign terrorists were killed during fending off of an attack by terrorists on Karnaz town.