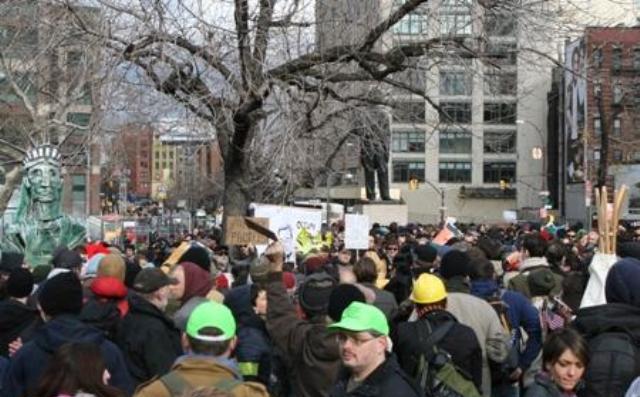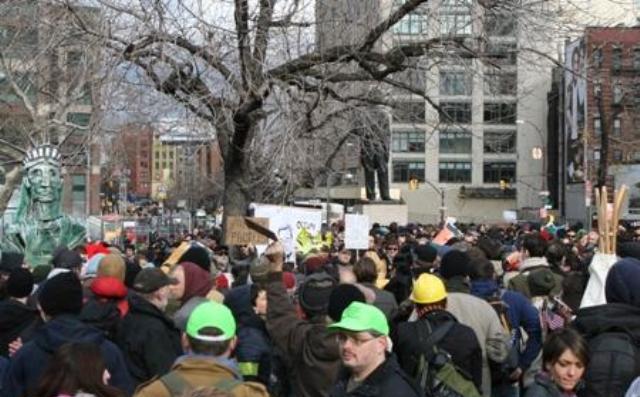 New York people came out on Manhattan streets Saturday evening in a harsh cold weather to demonstrate their firm will to change the capitalist system and put an end to social injustice.

The supporters of "Occupy Wall Street" movement gathered in Canal street neighborhood, chanting slogans.
They shouted though they were deprived from using Zuccotti Park as a gathering point to stop their protests, the demonstrations will go on till collapse of the capitalist system.
Criticizing the incentive packages offered by the White House to the banking system, they addressed the US president saying that Obama has robbed them from employment chances so he has to be impeached before the end of his term.
They also stressed that they will continue their protests even through the New Year holidays and will not return home before the laws are transformed in favor of the poor and middle class families.
One demonstrator, Justine Morales, told IRNA that the people were fed up with the capitalist system and were seeking changes like people in many other parts of the world.
He said Americans were sick and tired of discrimination, injustice, war and bloodshed and wanted changes in favor of 99 percent of people who were ignored by one percent of the nation.