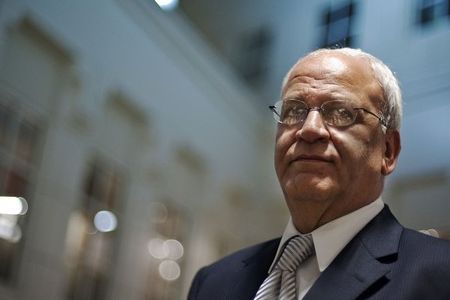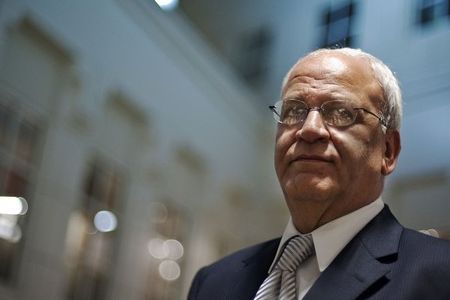 The chief Palestinian Authority negotiator has called for immediate international recognition of a Palestinian state to counter Israel's illegal plans for construction of new settlements.
"Israeli unilateralism is a call for immediate international recognition of the Palestinian state," Saeb Erekat said in a statement on Tuesday.
He made the remarks after Tel Aviv approved construction of more than 1,300 new settler units in the occupied East al-Quds (Jerusalem).
Meanwhile, news reports said on Tuesday that a further 800 units were planned in the massive settlement of Ariel in the northern occupied West Bank.
Israel's new settlement decision has drawn criticism from the international community, including the European Union and the United States.
EU Foreign Policy Chief Catherine Ashton warned on Tuesday that the new units "constitute an obstacle to peace and threaten to make a two-state solution impossible."
US President Barack Obama said on Tuesday that the new Israeli plans were not helpful for the Middle East peace process.
The Russian Foreign Ministry, for its part, issued a statement, slamming the new Israeli decision.
"We find it essential that the Israeli party refrained from the declared construction and on the whole kept to a moratorium on settler activity," the ministry said.
Israel approved the construction of the new settlement units after the partial, 10-month freeze on the projects ended late September.
The resumption of the construction has put a halt to direct talks between Israel and the Palestinian Authority, which began in early September after a 20-month break.
Acting Palestinian Authority Chief Mahmoud Abbas has announced that he will not return to the talks unless Tel Aviv freezes settlement activities in the occupied Palestinian territories.
Palestinians argue that the settlement construction is aimed at preventing the establishment of an independent Palestinian state.
Israel occupied al-Quds and the West Bank in the 1967 war – a move not recognized by the international community and the United Nations.