Palestine
PA Premier Rami Hamdallah to lead Palestinian Unity Government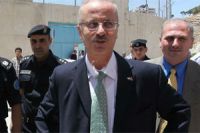 Palestinian Authority's (PA) caretaker Prime Minister Rami Hamdallah has secured a consensus between two main political factions of Hamas and Fatah to lead the new Palestinian unity government.
According to Press TV, on April 23, the Palestinian resistance movement of Hamas and the Palestine Liberation Organization (PLO), which includes the Fatah, reached a reconciliation deal to resolve their differences.
Under the deal, Hamas and Fatah are to form a unity government within five weeks and hold national elections six months later.
AFP quoted a Palestinian official, who spoke on condition of anonymity, as saying on Thursday "The government is nearly ready and Rami Hamdallah will be prime minister."
Hamdallah has been the acting PA prime minister since last June, when he replaced the former premier, Salam Fayyad.
Acting Palestinian Authority Chief Mahmoud Abbas "informed Mr. Hamdallah yesterday (Wednesday) that he would head the government".
Bassem Naim, a senior Hamas official, said the resistance movement "had no objection" to the decision.