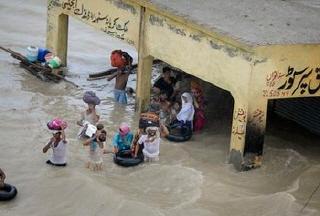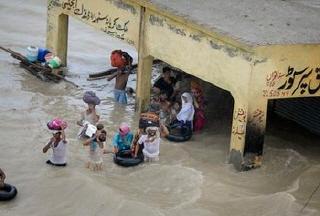 The worst floods in Pakistan's history have affected 12 million people in Punjab and Khyber Pakhtunkhwa provinces, the national disaster management agency said on Friday.
"The floods affected 12 million people in the two provinces," Nadeem Ahmad, head of the National Disaster Management Authority (NDMA) said.
Citing estimates from Pakistani authorities, UN relief agencies said 252,000 homes have been destroyed as relentless monsoon rains continue and Flood water rolls southwards through some of the poorest parts of the country.
The World Food Program said it was preparing to provide food aid to some 2.5 million Flood victims for three months, after delivering rations to 237,000 people in the worst hit areas.
About 1.8 million children are among those hit by the Flooding, according to the agency, and are especially vulnerable to the risk of disease.
This is while at least 113 people were also killed and hundreds injured after rare rainfall triggered flash floods Friday in an area of Indian Kashmir popular with foreign fans of high-altitude adventure sports.
The Floods, prompted by an intense cloudburst, surged through Leh, the main town in the Buddhist-dominated Ladakh region, causing what state Tourism Minister Nawang Rigzin Jora described as "unprecedented" devastation.