Asia-Pacific
Imam Ali Khamenei
Iran
Leaders of Ummah
Middle East
Pakistan
Pakistan FM lauds Iran Leader's 'continued support' for Kashmir
Pakistani Foreign Minister Shah Mehmood Qureshi has lauded the Leader of the Islamic Ummah and Oppressed Imam Ayatollah Seyyed Ali Khamenei for his "continued support" for the people of the Muslim-majority Himalayan region of Kashmir.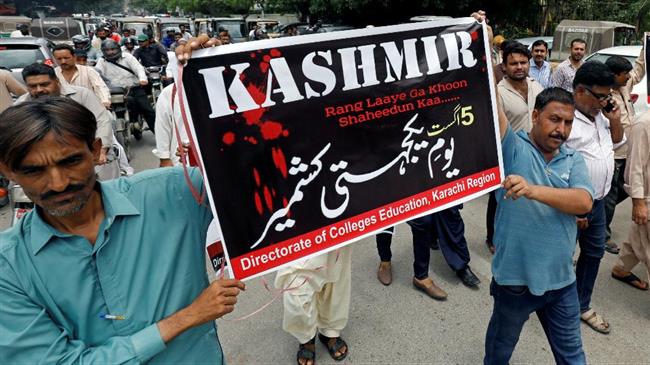 "The continued support of the Leader of the Islamic Revolution for the people of Kashmir is praiseworthy," Pakistan's Foreign Ministry quoted Qureshi as saying in a statement.
According to the foreign ministry, Qureshi made the statements in a phone call with Iran's Foreign Minister Mohammad Javad Zarif earlier this week.
"Other world countries have to understand that the critical and difficult situation in Kashmir requires cooperation from all sides," Qureshi during the discussion.
"International organizations and the international community have to continuously act to prevent Indian oppression in Kashmir and its illegal administration over the area," he added.
In August, Indian Prime Minister Narendra Modi delivered a surprise executive decree to strip the India-controlled portion of the Muslim-majority Himalayan region of its special status of autonomy.
New Delhi had promised special status to Kashmir when the region was partitioned between India and Pakistan seven decades ago.
However, Modi and his nationalist Bharatiya Janata Party (BJP) which have long opposed Kashmir's autonomy, have pushed to impose further controls over the Muslim-majority enclave.
Last month, India introduced a new law that would make its citizens eligible to become permanent residents of Kashmir, raising fears of demographic change in region.
According to the Pakistani foreign ministry statement on Thursday, the two foreign ministers also discussed regional security, specifically about achieving peace in neighboring Afghanistan.
The statement added that Qureshi offered his condolences to the Iranian nation for deaths resulting from the COVID-19 outbreak and expressed support for Iran's efforts against the virus.