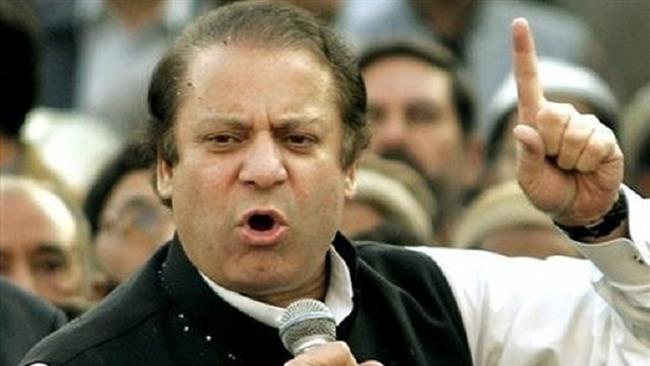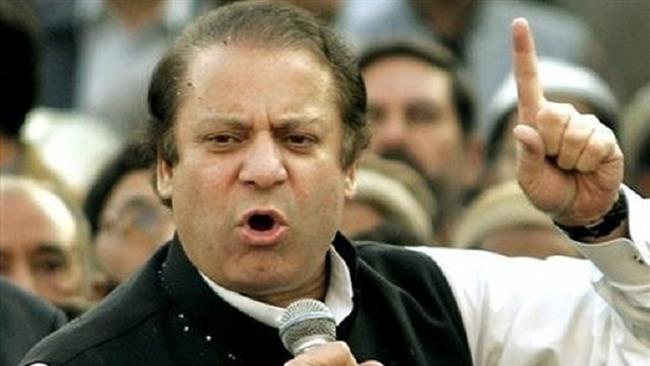 Prime Minister Nawaz Sharif of Pakistan says Islamabad will not tolerate "deliberate" attacks by India on Pakistani civilians along the de facto border line in the Kashmir region.
The Pakistani premier said Islamabad had so far been exercising restraint.
He was speaking during a Thursday meeting in the capital, Islamabad, to discuss the latest developments at the restive Line of Control (LoC), which separates the territories of the two nuclear-armed neighbors in the disputed Himalayan region of Kashmir.
Sharif added that the Kashmir issue had been an "unfinished agenda of the partition," adding that Islamabad would never cut off its support for the "freedom struggle of Kashmiris."
Advisor to Prime Minister on Foreign Affairs Sartaj Aziz, National Security Advisor Nasser Janjua and Director-General of the Inter-Services Intelligence General Rizwan Akhtar were also in attendance of the meeting.
Meanwhile, Pakistan's Chief of Air Force Marshal Sohail Aman has warned New Delhi against escalating the dispute over Kashmir into an all-out war, adding that Pakistan's armed forces were ready to defend the country against any potential misadventure by India.
"We are fully aware of the escalation in conflict arising from the Uri incident in Occupied Kashmir… We are not worried about India at all," he said, referring to an attack on the Indian Uri army base that killed 19 soldiers in Kashmir.
Tensions have intensified between the two arch-rivals since the September 18 attack. India blamed Pakistan-based militants for the attack, which was the worst such assault in 14 years. Islamabad denied any role and condemned later cross-border strikes by India, which inflicted casualties of their own.
Diplomatic tensions also generated between the two sides in late October, when India ordered one employee of the Pakistani High Commission out of the country, saying he was a suspected spy and prompting tit-for-tat expulsions.
In 2003, the two countries agreed to a ceasefire along the LoC in Kashmir and launched peace talks a year later. The process was suspended after over 160 people lost their lives in the 2008 terrorist attacks in the Indian city of Mumbai, also blamed by New Delhi on Pakistani militants.
The restive Muslim-majority region of Kashmir has also witnessed an increase in mass protests and violent attacks since early July, when a top pro-independence figure was killed in a shootout with Indian troops.
Tens of thousands of Indian troops have been deployed to the region and dozens of people have lost their lives in the ensuing crackdown. The crackdown, however, has failed to halt the protests.
Pakistan and India have already fought four total wars since their partition in 1947 — three of them over Kashmir.