Asia-Pacific
India
Pakistan
Pakistan returns captured Indian pilot in 'peace gesture'
Pakistan has released an Indian pilot whom it had captured after shooting down his fighter jet, in "a peace gesture" aimed at deescalating dangerously high tensions with India.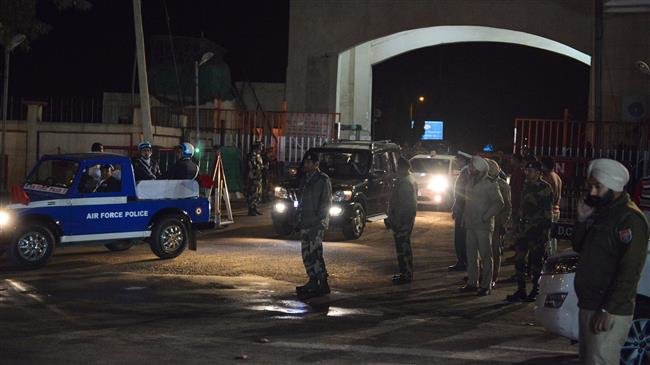 Pakistani TV footage showed Wing Commander Abhinandan Varthaman crossing into India at the Wagah crossing point just before 9 pm local time (1600 GMT) on Friday.
Indian officials confirmed the news, saying Varthaman would be taken to a hospital for medical checks.
He had been captured after Pakistan shot down his MiG-21 fighter jet, which Islamabad said violated Pakistani airspace.
Pakistan's Prime Minister Imran Khan had said on Thursday that his administration would return the captured pilot "as a peace gesture" to India.
Pakistan's Prime Minister Imran Khan says his administration will return a captured pilot "as a peace gesture" to India on Friday.
The tensions between the two neighbors escalated following a car bombing that killed at least 40 Indian paramilitary forces in Indian-controlled Kashmir on February 14. India accused the main Pakistani intelligence agency of involvement and vowed retaliation. The tensions then reached a peak on Tuesday, when India said it had conducted "preemptive" airstrikes against what it described as a militant training camp in Pakistan's Balakot.
It was unclear if and how much the release of Varthaman would relieve the tensions. On Thursday, Indian Prime Minister Narendra Modi used unprecedented rhetoric to unite Indians in the face of the "enemy." And India and Pakistan fired barrages of shells at each other across the frontier in Kashmir on Friday, leaving at least one person dead, although the hostilities were less intense than the previous days.
Kashmir has been split between India and Pakistan since partition in 1947. Both countries claim all of Kashmir and have fought three wars over the territory.
Indian troops are in constant clashes with armed groups seeking Kashmir's independence or its merger with Pakistan.
India regularly accuses Pakistan of arming and training militants and allowing them across the restive frontier in an attempt to launch attacks. Pakistan strongly denies the allegation.