Asia-Pacific
Iran
Middle East
Pakistan
Pakistan supports Iran's censuring of organized anti-Muslim violence in India
Pakistan's Foreign Minister Shah Mahmood Qureshi has supported Iranian Foreign Minister Mohammad Javad Zarif's condemnation of organized violence against Muslims in India.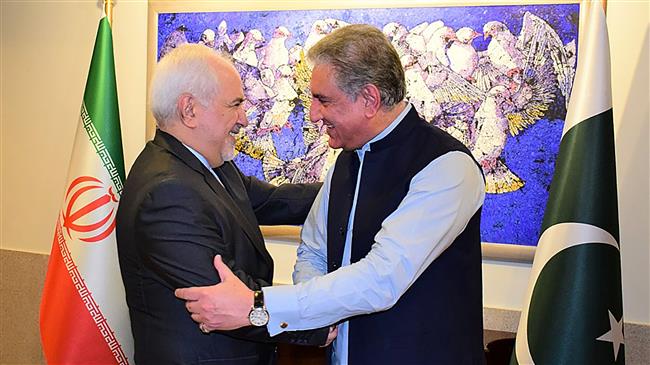 In a Twitter message on Tuesday, Qureshi said he "fully share[d]" the concerns expressed by "my brother" Zarif.
"Fully share the concerns expressed by my brother @JZarif on safety and well-being of Indian Muslims facing naked violence from RSS mobs. India is in throes of grave communal violence. Their sinister & systematic killing of Muslims is inhuman & dangerous for whole region," Qureshi wrote, referring to an Indian right-wing paramilitary organization.
Foreign Minister Zarif had posted a tweet of his own a day earlier condemning the recent deadly atrocities against Indian Muslims by pro-government Hindu mobs.
Iran condemns the wave of organized violence against Indian Muslims.

For centuries, Iran has been a friend of India. We urge Indian authorities to ensure the wellbeing of ALL Indians & not let senseless thuggery prevail.

Path forward lies in peaceful dialogue and rule of law.— Javad Zarif (@JZarif) March 2, 2020
Zarif's statement was made in reaction to the brutal killing of dozens and wounding of hundreds of Indian Muslims by Hindu mobs in India in the recent weeks.
Indian authorities later on Tuesday summoned Iran's Ambassador to India Ali Chegeni to file "strong protest" over Zarif's tweet.
India summons Iran envoy over FM Zarif's tweet against anti-Muslim violence India has summoned the Iranian envoy to protest comments made by Iran's FM Zarif in condemnation of the recent wave of violence against Muslims in the South Asian country.
The latest anti-Muslim violence in India began amid widespread protests across the populous country over a citizenship law that Prime Minister Narendra Modi's Hindu nationalist government introduced in December last year, offering a path to Indian citizenship for six religious groups from neighboring countries, specifically excluding Muslims.
India police arrest 100s after deadly anti-Muslim violence by Hindu mobs Indian authorities report the arrest of hundreds after worst anti-Muslim riots by Hindu nationalist mobs.
Critics say the law is discriminatory, coming in the wake of other severe government measures against the country's Muslim population, such as the withdrawal of autonomy for Muslim-majority Jammu and Kashmir.
According to the UK-based Independent newspaper, Hindu nationalist mobs roamed the streets of New Delhi on February 23, "burning and looting mosques together with Muslim homes, shops and businesses."
"They killed or burned alive Muslims who could not escape and the victims were largely unprotected by the police," the daily said in a Friday article, underlining that dozens of Muslims "were killed and many others beaten half to death" — including a two-year-old baby that was "stripped by a gang to see if he was circumcised, as Muslims usually are but Hindus are not."
Iranian people, university students, and seminarists held a protest rally in front of the Indian Embassy in Iran's capital of Tehran on Tuesday to condemn the recent massacre of scores of Muslims by Hindu mobs.