Pakistan
Pakistani militants attack NATO fuel tankers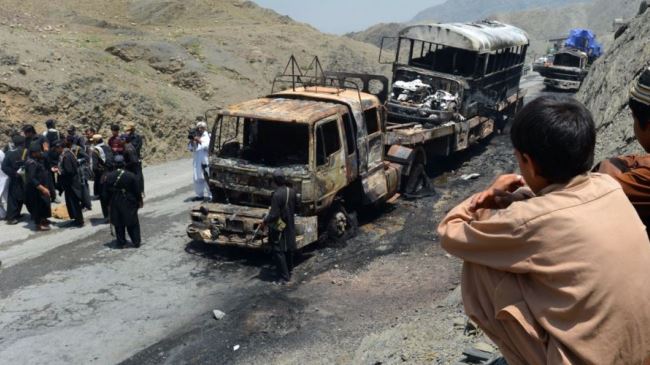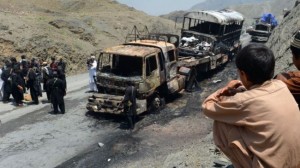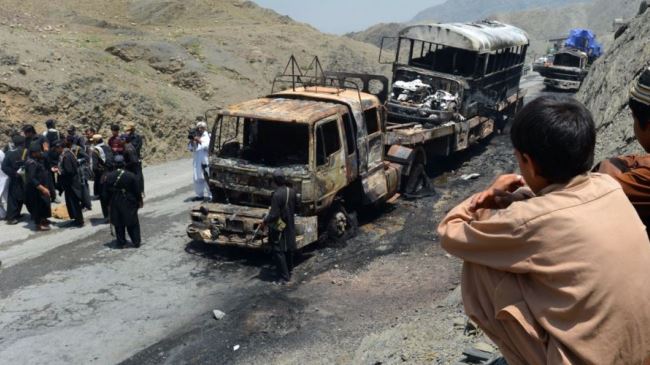 Militants in northwest Pakistan have attacked a convoy of NATO tankers carrying fuel for US-led forces in Afghanistan.
Pakistani officials say a driver was killed and two others wounded in the Monday attack that was carried out in the Jamrud area of Khyber tribal region.
"A convoy of six oil tankers was heading towards Afghanistan when four attackers riding two motorbikes attacked the first tanker, killing its driver," said senior local administration official Irshad Khan.
He added that a tanker was damaged after overturning due to the firing, but the remaining five tankers returned to Peshawar, the provincial capital of Khyber Pakhtunkhwa.
No group has claimed responsibility for the attack but such incidents are mostly blamed on pro-Taliban militants.
NATO supply trucks, which carry everything from fuel to munitions and food, often come under attacks on their journey between the Pakistani port city of Karachi and border crossing points.
Pakistani security forces have launched several operations in the troubled northwestern and southwestern provinces in a bid to flush out militants from the troubled regions.
Despite the Pakistani government's operations against Tehrik-e Taliban Pakistan (TTP) militants and associated groups, they have been able to spread their influence in various regions of the country and have killed thousands of people thus far.
Thousands of Pakistanis have lost their lives in bombings and other militant attacks since 2001 when Pakistan entered an alliance with the US in its so-called war against terrorism.