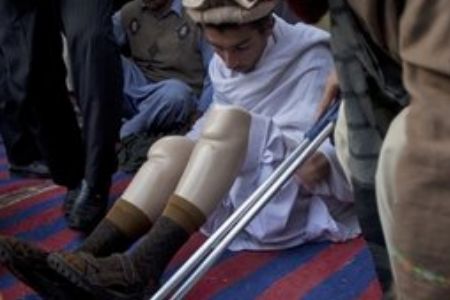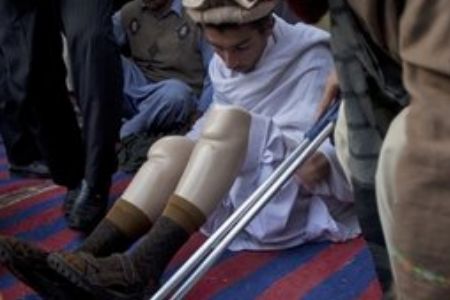 A Pakistani teenager is seeking to sue the CIA for damages after a non-UN-sanctioned US drone attack killed three of his relatives and led to his own disability.
Sadaullah Wazir lost both his legs and an eye in the attack last year. The 17-year-old insists none of those killed (when) were linked to militants, Associated Press reported on Thursday.
Last Thursday, the CIA was forced to call back its top spy in Pakistan after he was accused of killing civilians in unauthorized drone attacks.
The developments come after a Pakistani lawsuit designated the CIA station chief by name, accusing him of killing civilians in missile strikes.
Kareem Khan, a resident of the North Waziristan tribal district, filed an official complaint with Islamabad police against CIA station chief, Jonathan Bank, at the US Embassy in Islamabad on Monday.
The lawsuit had also named CIA Director Leon Panetta and US Defense Secretary Robert Gates.
This is the first such case filed against a CIA official for the use of non-UN-sanctioned drone attacks in Pakistan.
Khan's relatives were slain in an unauthorized US drone attack in the North Waziristan tribal district in 2009.
"That drone attack killed my son, my brother and a local man. We are not terrorists, we are common citizens," Khan told a news conference in Islamabad in late November.
The United States has escalated its drone strikes on Pakistani tribal regions this year.
An average of two attacks take place in the area every week. Washington says the unmanned planes target militants.
"The CIA's counterterrorism operations are precise, lawful, and effective," said CIA spokesman George Little, responding to questions about threatened lawsuits.
But thousands of civilians are reported to have been killed in about 200 drone raids over the past six years.
A recent report by the Brookings Institution says the illegal strikes have taken the lives of ten civilians for every militant killed.
The United Nations says the US-operated drone strikes in Pakistan pose a growing challenge to the international rule of law.
Philip Alston, UN special envoy on extrajudicial killings, said in a report in late October that the attacks were undermining the rules designed to protect the right of life.
Alston also said he feared that the drone killings by the US Central Intelligence Agency could develop a "playstation" mentality.