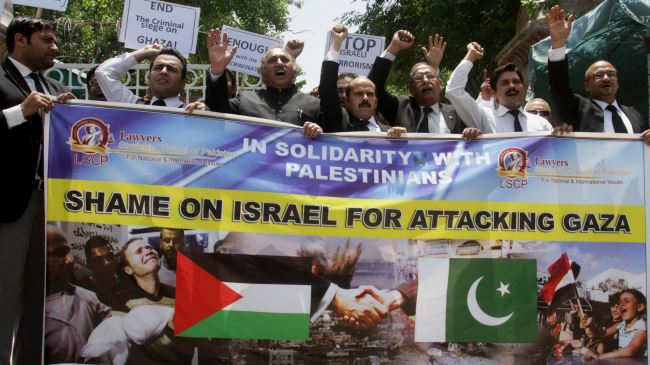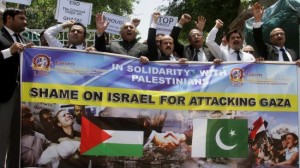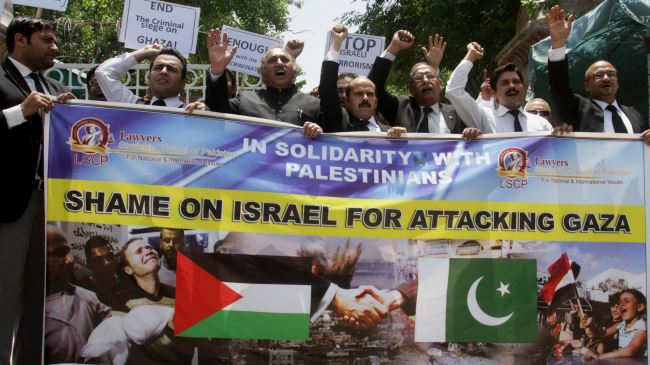 Hundreds of Pakistanis have taken to the streets in the eastern city of Lahore to deplore the ongoing Israeli offensive against Palestinians in the besieged Gaza Strip.
On Sunday, the pro-Palestinian demonstrators attended the rally called "Palestine Solidarity Caravan" and organized by the political party Jamaat-ud-Dawa (JuD).
The protesters held banners and placards and shouted slogans against Israel and the US.
"My brother, an oppressed Palestinian is calling me for help. This is not a single voice, it is the voice of thousands of Palestinian mothers, it is the voice of the children and elderly people there," JuD chief Hafiz Muhammad Saeed told the crowd of demonstrators, adding, "It is the voice of … oppressed Muslims. It is the voice of those, who are breathing their last breath….We assure our Palestinian brothers that our wealth and our lives are there to help you."
Separately, hundreds of people have staged a pro-Palestinian demonstration in the Japanese capital Tokyo. They held a banner printed with the names of Palestinians killed as of Saturday and demanded an immediate end to Israel's military assaults on Gaza.
Australians also staged a protest in Sydney, with people chanting anti-Israeli slogans, such as "free free Gaza" or "Israel, USA how many kids have you killed today?"
Similar demonstrations were also held in the Dutch capital Amsterdam and the Jordanian capital Amman.
In the Yemeni capital Sana'a, people gathered outside the UN office in solidarity with Gazans.
At least 1,822 Palestinians, including 400 children, have so far been killed and some 9,400 others injured since the Israeli military first launched its offensive against the Gaza Strip on July 8.
The Israeli military says three Israeli civilians and 64 soldiers have been killed in the conflict, but Palestinian resistance movement Hamas puts the fatalities at more than 150.