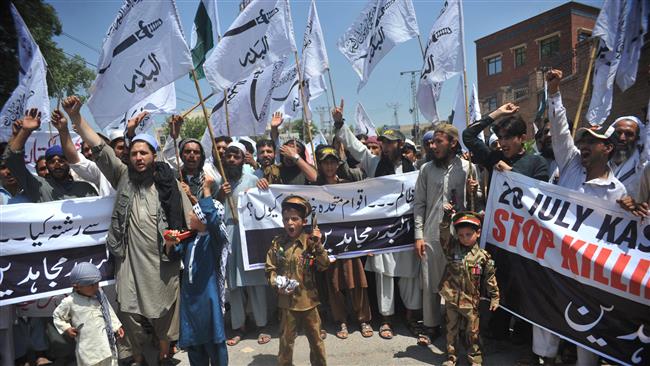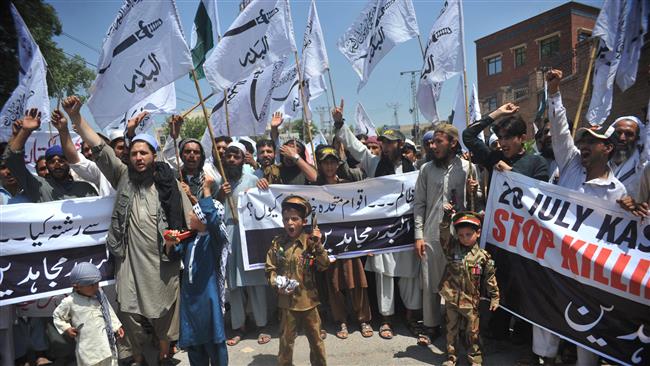 Pakistan is observing a 'black day' to express solidarity with the people of Kashmir which is the scene of fresh violence amid clashes between residents and Indian forces.
Rallies were to be held across Pakistan on Wednesday to draw the world's attention to a fresh wave of unrest sparked by the death of a separatist militant.
A government statement said all officials would wear black arm bands to express support for Kashmiris, scores of whom have died in almost two weeks of tensions.
The call to observe a 'black day' was made by Prime Minister Nawaz Sharif on July 15 a week after tensions in the valley escalated over the killing of Burhan Wani.
Since then, at least 42 people have been killed, including two men and a women on Monday and Tuesday after Indian soldiers fired on a stone-throwing crowd defying a curfew in the Kashmir region.
About 3,500 people have also been hurt, with many suffering from eye injuries caused by pellet guns that Indian forces have been using to disperse the crowds over the past few days.
Local authorities have ordered restrictions on the movement of people and traffic in several parts of Kashmir, suspended Internet and mobile networks, and halted cable television broadcasting.
Kashmir lies at the heart of a bitter territorial dispute between India and Pakistan since they became independent and partitioned in 1947.
New Delhi and Islamabad both claim the restive region in full but rule parts of it. The two countries have fought two wars over the disputed territory.
The young Wani represented a new generation of fighters in a region where alienation runs deep. The ruling Bharatiya Janata Party, which has advocated a tough stand on Kashmir, shares power with a regional party in Kashmir and has been criticized for failing to address grievances.
Cross-border frictions have frequently flared up between troops from the two neighbors along the disputed de facto border in Kashmir.
Thousands of people have been killed in the unrest in Kashmir over the past two decades.