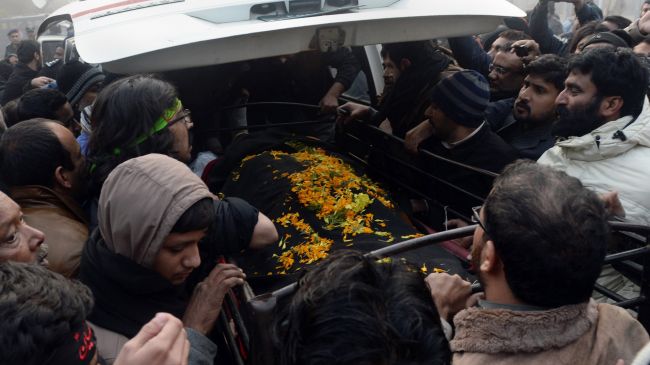 Shia Muslims in Pakistan have held demonstrations in condemnation of the killing of a prominent Shia cleric in Lahore.
Allama Nasir Abbas, the leader of Tehreek Nifaz Fiqah-e-Jafaria, which is a banned organization in Pakistan, was gunned down by unidentified armed men on Sunday night, on his way home after addressing a religious gathering in the capital of Punjab Province.
"It is a targeted attack. The gunmen shot him from close range when he was driving home along with his driver and a friend," said Lahore police chief Chaudhry Shafeeq. "Abbas died on the way to hospital. His driver and friend were unhurt."
The followers of the cleric gathered at the hospital after hearing the news and held a protest.
Chanting slogans against the Pakistani government, the protesters said they will not bury his body until police arrest the killers.
Groups of Shias also demonstrated in front of the Punjab governor's house early Monday to demand officials to bring the attackers to justice.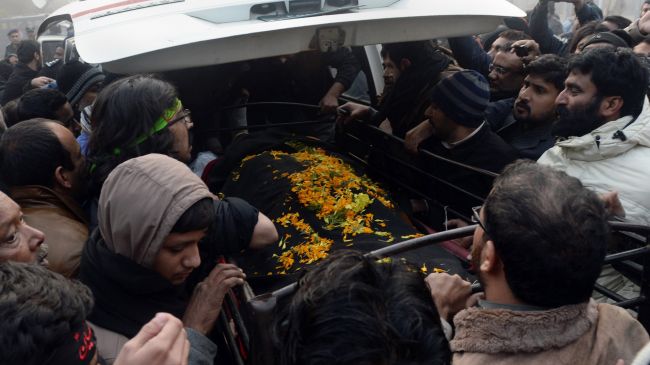 Three days of mourning have been announced in Lahore to honor the assassinated Muslim leader.
The latest killing comes more than a week after the assassination of Maulana Shamsur Rehman, the leader of the Sunni organization of Ahle Sunnat Wal Jamaat, near a mosque in Lahore. Shia groups have condemned the December 6 killing of the Sunni leader.
Shia Muslims, who make up about 20 percent of Pakistan's 180 million population, have been the target of sectarian violence in recent years.
On November 19, gunmen killed a senior Shia university director along with his driver in Lahore, while another Shia leader and his guard were killed in Karachi early December.
More than 800 Shia Muslims have been killed in attacks in Pakistan since 2012, according to Human Rights Watch.