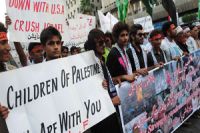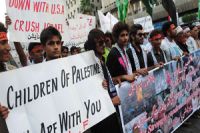 Hundreds of Pakistanis have taken to the streets in the country's capital, Islamabad, to protest the massacre of the people of Gaza by the Israeli regime.
According to Press TV, on Saturday, hundreds of protesters rallied in Islamabad, calling on the world powers to put an end to Israeli regime's crimes against the people of Gaza.
Pakistani human rights activist, Farzana Bari, said in an interview with Press TV: "The US and all forces that support Israel are equally responsible for the brutal death of innocent people in Gaza."
Carrying signs that read "Freedom for Palestine," and "Children of Palestine we are with you," protesters declared their solidarity with the Palestinian people.
Over 160 Palestinians, including women and children, were martyred and about 1,200 others were injured in the Israeli regime attacks on Gaza that were carried out during the eight-day period of November 14-21.
In retaliation, Palestinian resistance fighters fired rockets and missiles into occupied territories, killing at least five Zionists.
On Wednesday, Egypt announced that the Israeli regime and the Palestinian resistance movement of Hamas had reached a cease-fire agreement. Under the deal, the Palestinians and Israeli regime agreed to end all hostilities, though the Israeli regime did not agree to lift the blockade of the Gaza Strip.
On Friday, however, Israeli regime violated the cease-fire by martyring a Palestinian man named Anwar Abdulhadi Qudaih and injuring at least 19 others in the village of Khuzaa, east of Khan Yunis in the Gaza strip.