Pakistan
Pakistanis stage rallies to slam Charlie Hebdo cartoon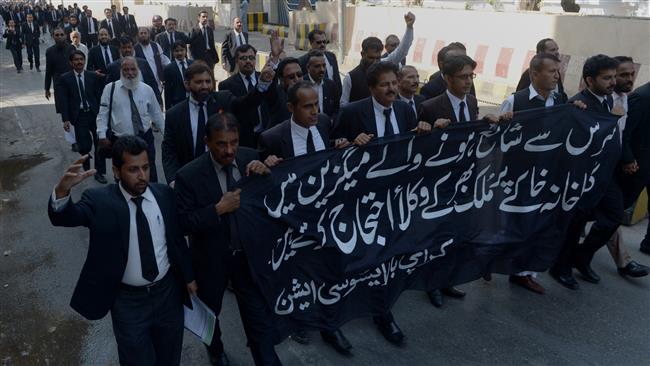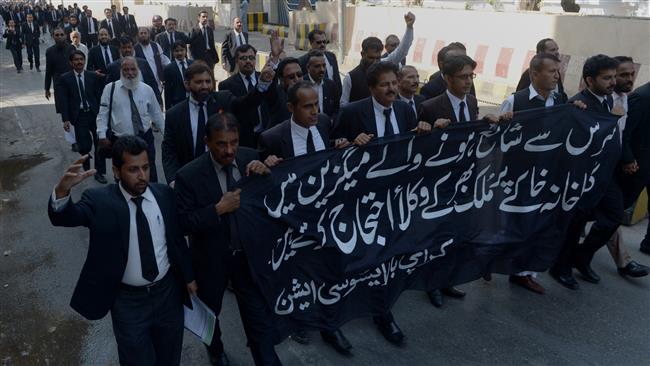 Lawmakers and activists in Pakistan have poured into the streets in the southern port city of Karachi to denounce French satirical magazine, Charlie Hebdo, for the publication of a blasphemous cartoon of Prophet Muhammad.
Lawmakers, members of civil society and peace activists rallied in Karachi, Pakistan's largest city, on Saturday to condemn the publication of a sacrilegious cartoon of the Prophet by the French magazine.
They denounced the growing wave of Islamophobia and hostility against Muslims across the Western countries.
Also on Thursday, clashes erupted between a large number of student protesters and police as the students were heading toward the French Consulate in Karachi. Reports say several protesters were injured as police tried to push them back with water cannons and tear gas.
Similar massive rallies were also held in other Pakistani cities, including Islamabad, Rawalpindi, Multan and Faisalabad over the past 48 hours.
The Pakistan parliament has passed a resolution to slam Western media for reprinting the cartoon that was originally published by the French weekly.
This comes as Muslims across the world continue to condemn and protest the printing of the insulting cartoon. Afghan President Ashraf Ghani has also condemned the offensive cartoon as an insult to Islam and the Muslim world.
On Wednesday, Charlie Hebdo published a cartoon depicting Prophet Mohammad on the cover of its new edition. This came after two gunmen attacked the Paris office of the magazine on January 7, killing twelve people. The attack is largely believed to have been launched over the magazine's previous cartoons of the Prophet.