Palestine
Palestine national reconciliation reinforces anti-Zionist resistance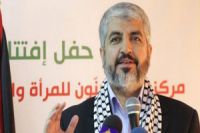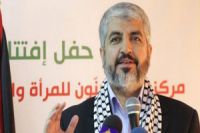 Palestine Islamic Resistance Movement Hamas Political Chief, Khaled Mashal, has noted that Palestine national reconciliation reinforces resistance against Zionist regime of Israel.
According to IRIB World Service, delivering a keynote speech in the Qatari Capital, Doha, on Tuesday, Hamas political chief noted that implementation of Palestine national reconciliation agreement between Hamas and Fatah groups boosts the anti-Zionist resistance.
In further remarks, he mentioned the usurpation of Palestinian territories by Zionist regime for 66 years, while adding that only in case of liberation of Palestinian territories and return of Palestinian refugees to their homeland the resistance would stop.
He also urged the liberation of Palestinian captives, who are languishing in the Zionist regime's dungeons.
Furthermore, Hamas political chief termed negotiations with Zionist regime of Israel as pointless, while adding that the failure of these talks with Palestine self-rule Authority showed that Zionist regime doesn't believe in peace.