Palestine
Palestine warns to sue Israel at ICC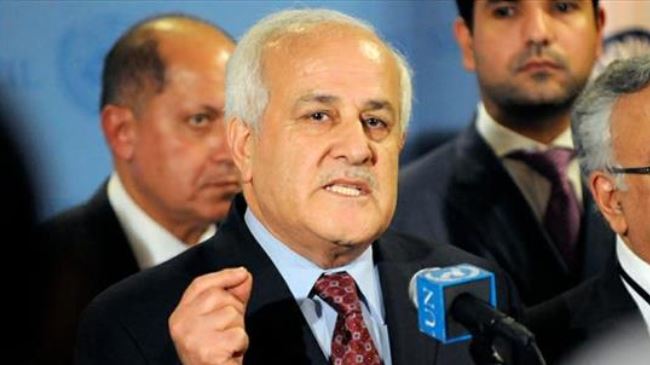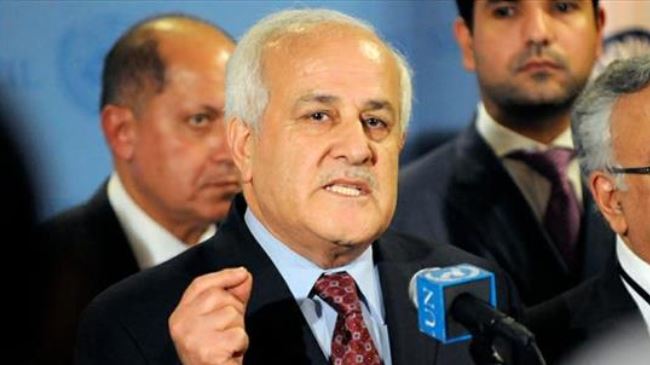 Palestine will start proceedings to pursue war crime charges against Israel, if the United Nations Security Council fails to approve a deadline for the Israeli regime to pull out from occupied territories, a Palestinian official says.
The Palestinian UN ambassador, Riyad Mansour, said in an interview with The Associated Press on Thursday that the Palestinian government has asked the Security Council "to force Israel to negotiate in good faith the end of occupation within a time frame."
He added that Palestinians expect the council to adopt a draft resolution that leads to the pullout of the Israelis from the occupied Palestinian territories, including the West Bank, the besieged Gaza Strip and East al-Quds (Jerusalem), by November 2016.
The United States is reportedly most likely to oppose the move.
He warned that if the Council fails to accomplish this goal, the Palestinian government will join the International Criminal Court (ICC) to pave the way for the Palestinians to sue senior Israeli officials for war crimes against Palestinian people.
"But if this additional door of peace is closed before us, then we will not only join the ICC to seek accountability," Mansour said, adding, "We will join other treaties and agencies" to prove "that we exist as a nation, we exist as a state although the land of our state is under occupation."
He added that if the Security Council shuts the "door to peace", the Palestinians will keep seeking new doors.
"We will continue to exert all possible efforts to open doors for peace," Mansour said, adding, "If one door is closed, we will not give up. We will look for another door. If the second door is closed, we will look for another one. Our objective is to find a very effective way to end this occupation as quickly as possible to allow for the independence of our state."
Mansour stressed that one option is holding an international conference including "all those who have influence over our situation in the Middle East and all those who are genuinely interested in peace and resolving this conflict."
Palestinian President Mahmoud Abbas said on Wednesday that the US has exerted heavy pressure on Palestinians to abandon plans to seek a UN resolution against the Israeli regime.
Abbas, however, warned that he would take measures to join the ICC if the US vetoed the motion.
On November 29, 2012, the 193-member UN General Assembly voted to upgrade Palestine's status to non-member observer state.
The observer state status grants Palestinians access to UN agencies and the ICC, where they can file formal complaints against the Israeli regime.
Palestinians are seeking to create an independent state on the territories of the West Bank, East al-Quds, and the Gaza Strip and are demanding that Israel withdraw from the occupied Palestinian territories.
Tel Aviv, however, has refused to return to the 1967 borders and is unwilling to discuss the issue of al-Quds.