Palestine
Palestinian activists protest against settlers' demonstration east of Qods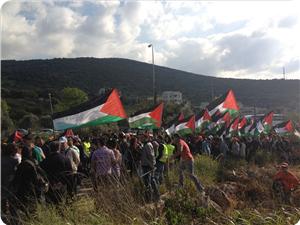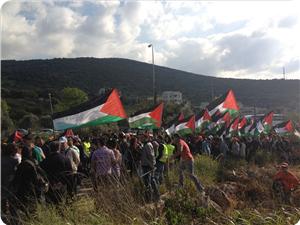 Dozens of Palestinian activists have protested on Thursday afternoon at Ma'ale Adumim settlement's entrance east of Jerusalem and tried to close the road leading to the outpost before being suppressed by Israeli soldiers.
According to PIC reporter, Palestinian activists tried to close the road leading to Ma'ale Adumim settlement in order to prevent Jewish settlers from marching to Bab al-Shams village that is exposed to Israeli attempts to annex it to Jerusalem as part of an Israeli plan to divide the West Bank into two parts.
The Israeli occupation forces (IOF) have suppressed and assaulted the Palestinian activists forcing them to withdraw to Azireya town.
Earlier, the IOF had stormed Azireya town before the Palestinian protest started, and arrested activist Mahmoud Zawahr.
Thousands of Israeli settlers organized a rally in the area calling for annexing Bab al-Shams town and Ma'ale Adumim settlement to Jerusalem with the participation of Israeli ministers and MKs.
For his part, Salah al-Khawaja, deputy secretary-eneral of the Palestinian national initiative, told the PIC that the Palestinian protest came as a response to Israeli settlers' policy and attempts to impose a fait accompli and to establish the largest settlement bloc in the region at the expense of Bab al-Shams village.
Al-Khawaja stressed their determination to continue struggling against Israeli settlement schemes till ending the occupation.