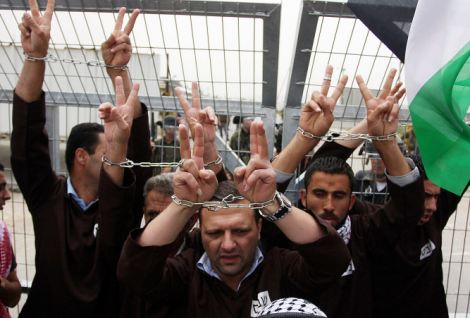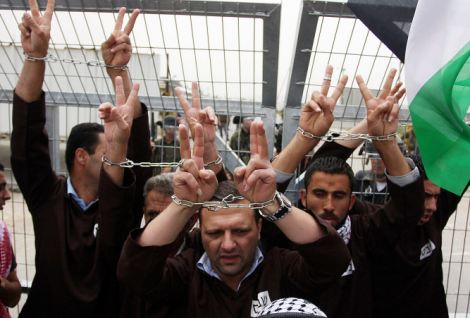 Palestinian prisoners in "Israeli" jails launched a one-day hunger strike on Tuesday in solidarity with two long-term hunger strikers at risk of death, a prisoners center said.
The Gaza-based Prisoners Center for Studies announced that prisoners from all political factions will participate in the solidarity strike action, calling on the Palestinian community to support long-term hunger strikers Ayman Sharawna and Samer Issawi.
In parallel, the center called on Egyptian authorities to intervene to protect prisoners' rights.
Sharawna, 37, has been on hunger strike for 150 days since first launching protest action on July 1.
For his part, Issawi, who has been on hunger strike for 120 days, started refusing water on Nov. 21, prisoner rights group Addameer said.
In details, about 4600 detainees, decided to refuse their three meals in solidarity with the two detainees, who are threatened with death at any moment, in light of the "Israeli" disregard for their humanitarian demands.
Both prisoners threatened to escalate their strike action on Monday in protest against humiliating conditions and medical neglect.
Issawi, from al-Quds, and Sharawna, from al-Khalil were both released under the 2011 prisoner "Loyalty to the Free" deal but rearrested shortly after, and are being held without charge.
Earlier, around 2,000 Palestinian prisoners joined a mass hunger strike launched on April 17 to demand fairer prison conditions, according to prisoners groups' estimates.