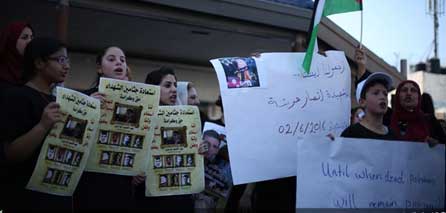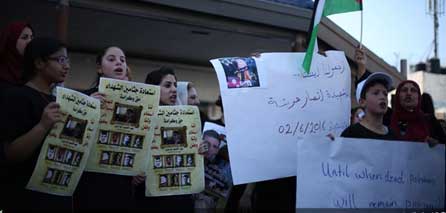 Palestinian families protested Wednesday in Ramallah city in central West Bank, calling for the release of their slain sons' bodies.
During the event, the slain Palestinian Thaer Abu Ghazala's father urged international human rights institutions to intervene for the release of slain Palestinians' bodies.
"We have organized a series of events in West Bank, occupied Jerusalem, and within the Green Line to put more pressure on the Israeli authorities for the release of our sons' bodies.
However, it was in vain." Israeli occupation, he continued, have been manipulating in meeting our demands and refusing to reveal any information about their whereabouts.
Israeli Supreme Court had earlier set 7th of July to decide upon the petition submitted by slain Palestinians' families for the release of their sons' bodies.
Bodies of nine slain Palestinians are still held by Israeli authorities for different periods of time with some of them up to nine months.