Palestine
Palestinian inmate in Israeli jail in coma for 12 days due to medical negligence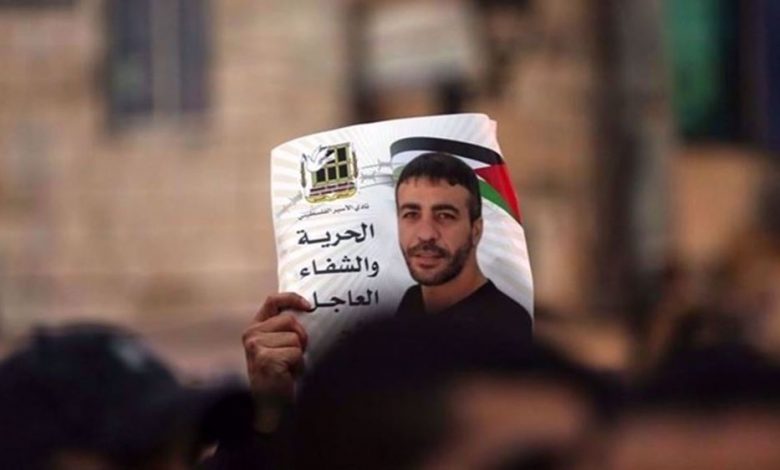 Palestinian prisoners' advocacy groups say health condition of Nasser Abu Hamid, a cancer patient held in Israeli jail who fell into coma twelve days ago, has seriously deteriorated.
The Palestinian Commission of Detainees' and Ex-Detainees' Affairs said on Sunday that Abu Hamid was still in a coma and placed on a respirator at the Israeli hospital of Barzilai.
Abu Hmeid, 49, from Amari refugee camp in the occupied West Bank city of Ramallah, entered into a coma 12 days ago after suffering a severe inflammation of the lungs as a result of bacterial contamination.
The groups advocating for prisoners' rights say the health condition of Abu Hamid is now deteriorating rapidly and has reached a very critical and dangerous stage.
He has begun to receive chemotherapy just recently after a deliberate delay by the Israeli authorities. He was also exposed to deliberate medical neglect over the past months.
According to the commission's report, the Palestinian prisoner recently suffered from a serious health deterioration, but the Israeli prison service delayed his transfer to the hospital. He was also exposed to deliberate medical neglect over the past months.
Palestinians in recent days have organized several rallies in the occupied West Bank in a show of solidarity with Palestinian prisoners in Israel.
Israeli forces last week attacked Palestinians taking part in a protest in support of Abu Hamid. Clashes erupted between protesters and Israeli troops near the entrance to the town of Beita, south of West Bank city of Nablus, as Palestinians gathered to voice solidarity with Abu Hamid.
The protesters chanted slogans such as "Nasser, Go! Go! We are behind you until your liberation."
Participants have called on international human rights groups to intervene to free Abu Hamid.
Palestinian activists say Israel "is practicing slow killing" of Palestinian prisoners through "medical negligence".
The health condition of Abu Hamid, who has been in jail since 2002, has deteriorated since August 2021.
Last October, he underwent surgery to remove a lung tumor and was transferred to the Israeli jail before a complete recovery.
Abu Hamid has received seven life sentences and a 50-year jail term.
There are thousands of Palestinians held in Israeli jails. Human rights organizations say Israel violates all the rights and freedoms granted to prisoners by the Geneva Convention.
Israeli jail authorities keep Palestinian prisoners under deplorable conditions lacking proper hygienic standards.
Palestinian inmates have also been subjected to systematic torture, harassment, and repression.