Palestine
Middle East
Others
Resistance Axix
Palestinian jailbreak plunged 'israel' into yet another security crisis: Journalist
An internationally-syndicated columnist and media consultant says the recent escape of six Palestinian prisoners from a high-security facility in the northern part of the Israeli-occupied territories has pushed the Tel Aviv regime into yet another security crisis, describing the jailbreak as a serious embarrassment for Israel and its security apparatus.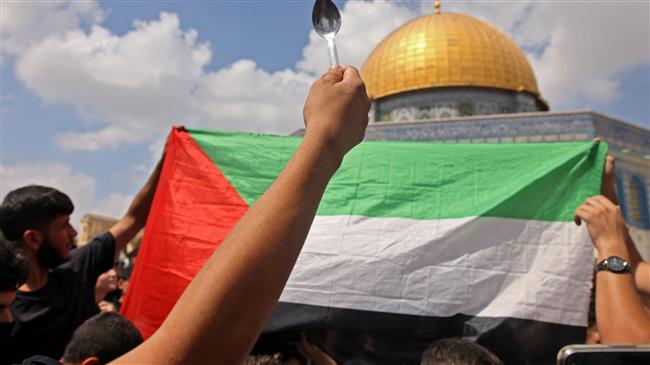 "While Palestinians celebrated the daring escape, Israel plunged into yet another major security crisis," Palestinian-American journalist and the editor of independent online newspaper The Palestine Chronicle, Ramzy Baroud, told Press TV on Sunday.
The "escape from the Israeli gulag, which lacks the minimal requirements of justice or the rule of law, was treated in Israeli media as the very collapse of the security system," he added.
Baroud said Palestinians have frequently made a mockery of Israel's security myths.
"The resistance in Gaza has exponentially increased its capabilities, either to prevent the Israeli army from entering and holding positions in the Strip or strike back at Israeli towns and cities," the journalist said.
"Israel's ability to win wars and keep its gains have fairly dwindled in Gaza, and the Israeli regime's bids in Lebanon have been repeatedly thwarted over the last two decades."
Baroud then pointed to the faulty structure of the Israeli military and security forces, saying their major design flaws have never been addressed or even rectified.
"No nation on earth can enjoy long-term security, peace and prosperity at the expense of another, as long as the latter never ceases its fight for freedom. Until Israel abandons its foolish 'security' fantasies, there can never be true peace in Palestine, neither for oppressed Palestinians, nor for Israeli occupiers," he said.
In the predawn hours of September 6, Zakaria Zubeidi, a former commander of the al-Aqsa Martyrs' Brigade in Jenin and five Islamic Jihad members tunneled their way out through their cell's drainage system and escaped from Gilboa prison.
Israeli prison officials were alerted by farmers who noticed them running through fields.
Four of the Islamic Jihad members were serving life sentences, while the fifth had been held without charge for two years under a so-called administrative detention order, according to Israeli media.
On Saturday, Israeli media outlets reported that four of the escapees had been arrested in the northern part of the occupied territories.