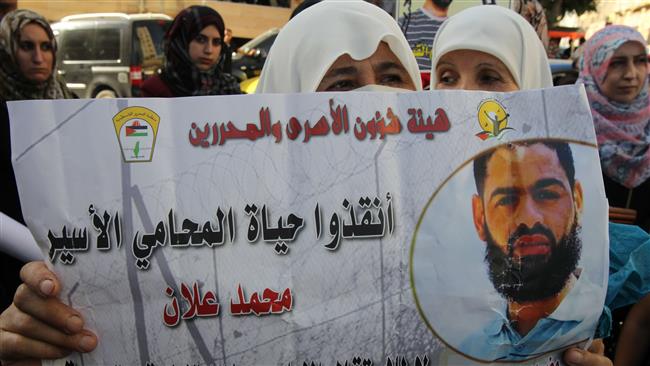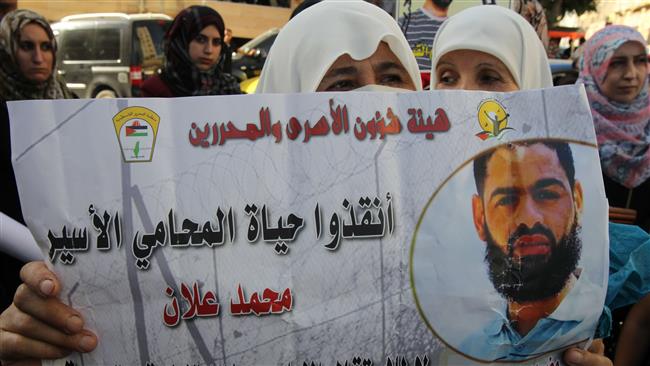 Former Palestinian prisoner Mohammad Allan has once again gone on an open-ended hunger strike after being re-arrested by Israeli forces and being jailed without trial following an improvement in his general health condition and discharge from hospital.
Jamil al-Khatib, the lawyer for Allan announced that his client is currently on hunger strike.
Khatib said he and Allan were "still waiting to know why he was arrested, if it is for new reasons or is related to his old administrative detention order."
It was "likely" that they will again appeal to the High Court against his detention order, he added.
Israeli officials said Allan was arrested on Wednesday morning at the Barzilai Medical Center in the coastal city of Ashkelon, situated 50 kilometers (31 miles) south of Tel Aviv, where he was being treated ever since his health deteriorated after an earlier hunger strike. Allan had gone into a coma on August 14, but recovered a number of days later.
Israeli police spokeswoman Luba Samri said in a statement that Allan was now transferred to the Ramla prison hospital.
Allan had threatened to resume his hunger strike if Israeli authorities reinstated his administrative detention – a controversial form of imprisonment that allows Israeli authorities to detain individuals indefinitely without charge, trial or access to legal counsel.
Thirty one-year-old Allan, himself a lawyer, ended his previous hunger strike on August 20 after an Israeli court suspended his detention. He had been on hunger strike for 65 days to protest Israel's practice of administrative detention.
Palestinians and human rights groups say Israel uses the measure in violation of international law.
Palestinian inmates regularly go on hunger strike in protest at both the unfair administrative detention policy and the harsh prison conditions in Israeli jails.
More than 7,000 Palestinians are reportedly behind bars in 17 Israeli prisons and detention centers, a number of them without charge or trial.
Israel also recently passed a bill allowing the force-feeding of hunger-striking prisoners. The measure has, however, not been implemented as it reportedly faces opposition from the doctors who have to enforce it.