Palestine
Palestinian young men clash with IOF yesterday in J'lem, stone Israeli bus in Nablus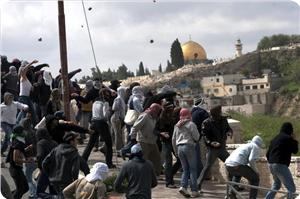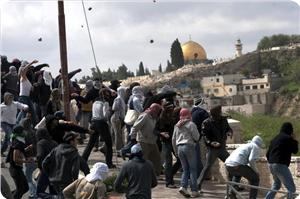 Dozens of young people were injured on Sunday evening during clashes with the Israeli occupation forces (IOF) in occupied Jerusalem, while an Israeli bus carrying settlers in Nablus was exposed to volleys of stones thrown by Palestinian youths.
Eyewitnesses reported that clashes erupted in Ram town in occupied Jerusalem when Israeli forces stormed the town and started firing tear gas bombs and live bullets at angry young men, who responded by throwing stones and Molotov cocktails.
10 youths were injured during the clashes, while Israeli forces closed the town's entrances and erected barriers on the main roads leading to it.
In another incident, the Hebrew radio claimed that stones and Molotov Cocktails were thrown yesterday at an Israeli bus in Hawara town in Nablus. The bus driver was slightly injured, the sources added.
Israeli forces have carried out searches in the area looking for the attackers.
The Hebrew raid also said that two Israeli soldiers were slightly injured during yesterday's clashes in West Bank.
Israeli sources confirmed that an Israeli settler was injured after being attacked with stones in Husan town south of Bethlehem.
The settler was riding a motorcycle when he mistakenly entered the town and came under stone attacks by local youths, the sources added.