Palestine
Palestinian Youth groups call for protests against zionist Kerry's visit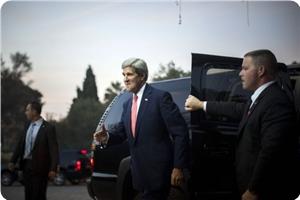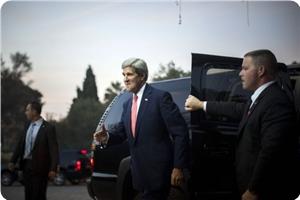 Palestinian youth groups have called for protests against US Secretary of State John Kerry's visit to the region.
In a press statement on Monday, the youth groups said that Kerry's visit came as part of the new round of Israeli-Palestinian talks that aim to reach a framework agreement to end the Palestinian-Israeli conflict permanently in a way coping with the Israeli vision.
The youth groups called for mass participation in Tuesday protests "in defense of Palestinian people's dignity and struggle".
Many have warned of "the framework agreement" submitted by U.S. envoy that aims to liquidate the Palestinian cause.
Kerry strives to convince Palestinians to recognize Israel as a "Jewish state" and to accept a Palestinian state on 67 borders with land exchange in addition to liquidate core issues including Jerusalem, right of return, and borders, according to the statement.
The statement warned of turning the framework agreement into an alternative to the Palestinian people's historic rights, UN resolutions, and international laws in order to give a green light to Israeli settlement construction, Apartheid Wall, Judaization policy, arrest campaigns, and continued siege on Gaza.
Meanwhile, dozens of Palestinian activists participated in Nablus on Monday in a march in protest against normalization with occupation, carrying banners calling for criminalizing normalization and any dealing with the Israeli occupation.
The participants chanted slogans criticizing the normalization meeting held in Ramallah few days ago.
Palestinian citizens have foiled several normalization meetings between PA officials and their Israeli counterparts in al-Bireh and occupied Jerusalem.