Palestine
Palestinians camp down in Ein Hijleh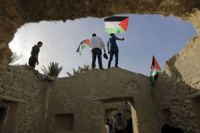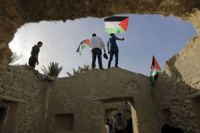 Hundreds of Palestinians have camped down in a village in the occupied West Bank a day after Zionist regime's forces totally razed down an entire Palestinian village in the Jordan Valley.
According to Press TV, the protesters on Friday seized dozens of abandoned homes in Ein Hijleh village in the Jordan Valley to protest aggressive policies of Zionist regime.
Palestinian activist and coordinator of the event, Abdallah Abu Rahmeh said "We the youths of Palestine announce today the resettlement campaign in Ein Hijleh village, which is part of the campaign named Salt of the Earth in the Palestinian Jordan Valley area."
The protesters also denounced Zionist regime's destruction of Palestinian homes and the illegal settlement expansion plans of Tel Aviv.
Rights activists say they have no intention of ending the campaign any time soon.