Palestine
Palestinians demand Abbas resignation at Gaza protest rally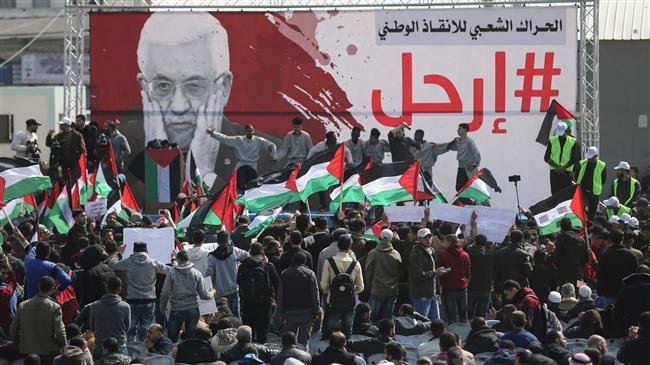 Thousands of Palestinians have staged a demonstration in the besieged Gaza Strip, demanding that Palestinian President Mahmoud Abbas step down.
On Sunday, the protesters converged on al-Saraya Square in Gaza City to express their resentment over the Ramallah-based Palestinian Authority's recent decision to cut salaries of civil servants in the impoverished enclave and continue cooperation with the Israeli regime.
The demonstrators also chanted, "Go, go, Abbas, that's the demand of the people," as they took part in a rally organized by the Free Gaza Movement, a coalition of human rights activists and pro-Palestinian groups working to challenge the Tel Aviv regime's 12-year naval blockade.
Members of the movement had reportedly been circulating anti-Abbas content on social media networks over the past few weeks.
Meanwhile, the Popular Movement for National Salvation in Gaza has sent a message to the participants of the forthcoming Arab-European summit in the Egyptian resort town of Sharm el-Sheikh, stating that "Mahmoud Abbas is no longer a representative of his own people or a legitimate Palestinian Authority (PA) chief."
"We'd like to inform you that Mahmoud Abbas no longer has a legitimate status to represent the Palestinian people and speak on their behalf in accordance with the Palestinian Basic Law, which has limited the term of the president to only four years; accordingly, Abbas' term of office expired in 2009," the message read.
It added, "Abbas has been practicing presidential duties for 10 years as a fait accompli…this situation, however, has dismembered the Palestinian political system and excluded active Palestinian factions and political forces from participating in decision-making and playing a role in public life, which has led to deepening of the constitutional and legal crisis that has overshadowed the Palestinian political scene.

"During those years, Abbas has abused the powers granted by the Basic Law to the Palestinian Authority president through issuing more than 200 law decrees…and taking punitive measures against the civilians in the Gaza Strip."
The movement then held Abbas fully responsible for the lingering Israeli siege on the Gaza Strip.
Earlier this month, the Palestinian Authority reduced the salaries of 263 employees from the Gaza Strip's Ministry of Health, as well as a further 400 employees from the Education Ministry.
Spokespersons for both ministries announced the numbers in separate statements on February 11, denouncing the salary cuts as "flagrant violation" of the rights of public employees.
The ministries warned that the employees' reduced salaries would negatively impact their capacity to provide services, and will further exacerbate their problems as they have not received administrative and operational funds from the Palestinian Authority for years.