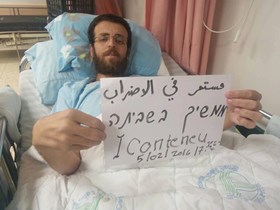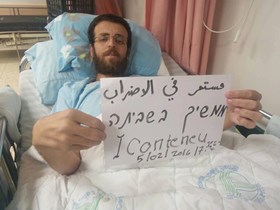 Palestinians in Europe Conference called for a mass Arab and international support for the journalist Mohamed al-Qeiq who has been on hunger strike for 76 days in protest at his illegal detention in Israeli jails without charge or trial. Chairman of the conference Mazen Kahil called on the European Union and the free world to stand by the Palestinian people who are subjected to heinous crimes and violations.
"We also call on the European Parliament and supporters of freedom of expression to stand behind al-Qeiq as he enters a very critical stage of hunger strike". He pointed to Israel's deliberate targeting of journalists in occupied territories in order to prevent any attempt to expose its ugly image.
Head of the Palestinian Assembly in Germany Dr. Suhail Abu Shamala, for his part, stressed to urgent need to provide international protection for Palestinian children as they are daily targeted during Israeli arrest campaigns. Abu Shamala held the international community fully responsible for al-Qeiq's safety, noting that many solidarity events will be organized in support of the hunger-striker. On the other hand, Israeli police detained Tuesday evening two human rights defenders within the Green Line for supporting al-Qeiq.
Head of Youssef al-Sidiq institution Firas al-Omari and the lawyer Ahmed Khalifa were brutally arrested during their participation in a solidarity event outside Afula Hospital, the Palestinian Committee for Prisoners and ex-Prisoners affirmed. The wife of the Palestinian detainee Muhammad al-Qeiq said her husband's health status has sharply exacerbated after his hunger strike had entered its 77th day. On 21 November 2015, Israeli forces arrested Mohammed al-Qeiq, 33, reporter of al-Majd Saudi Channel, from his house.
He experienced tough interrogation, during which he was exposed to torture, including shackling (Shabeh), before being placed under administrative detention. Therefore, al-Qeiq started a hunger strike.  Al-Qeiq has been on an open hunger strike since 25 November 2015 in protest against placing him under 6-month administrative detention. After his health status deteriorated, al-Qeiq was taken to Afula Hospital and is still there. Human rights sources reported that he suffers from permanent headache and pains in the stomach and joints, vomits blood and lost 13 kilograms.
On 12 January 2016, Israeli authorities force-fed al-Qeiq after he was handcuffed and then forcibly administrated intravenous fluids in a grave violation of al-Qeiq's crippled will, which amounts to an international crime that requires holding those who ordered and applied it to account.