Palestine
Palestinians march in Ramallah and storm an occupation army camp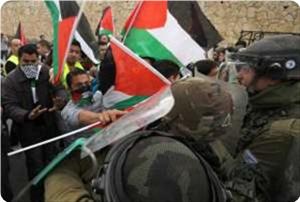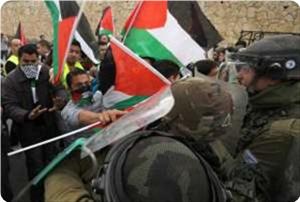 Scores of Palestinian youths succeeded to storm the biggest military camp of the occupation army in the city of Ramallah on Thursday afternoon before raising the Palestinian flags.
Local sources said that dozens of youths reached the center of the camp of the occupation forces in Beit El settlement, east of Ramallah, and raised Palestinian flags to denounce the Israeli aggression on the Gaza Strip, noting that the occupation forces declared a state of alert inside the camp and closed the streets leading up to it.
The sources said that the Israeli occupation forces transferred a number of its heavy military equipment from inside the camps near the city of Jerusalem to an unknown destination, amid reports about Israeli expectations of the deterioration of the situation in the West Bank and the outbreak of a third popular Intifada (uprising) similar to the Al-Aqsa Intifada in 2000.
Meanwhile, confrontations took place on Thursday afternoon between hundreds of youths and Israeli soldiers near the Ofer prison south of the occupied city of Ramallah in solidarity with the Gaza Strip, which is under the Israeli extensive attack.
The local sources reported that hundreds of youths carrying Palestinian flags clashed with the occupation soldiers in the vicinity of the prison after a spontaneous march that was launched from the place down to the checkpoint.
The national and Islamic forces in Ramallah and Al-Bireh staged yesterday afternoon a sit-in in solidarity with the Gaza Strip in the Manara roundabout in downtown.
Tens of youths, a number of the factions' leaders and some Hamas MPs in the city took part in the protest.
The protestors called on the resistance factions in the Gaza Strip and the West Bank to escalate the resistance against the Israeli occupation in response to the aggression against the Palestinian people in the Strip.
A state of public anger prevail in the Palestinian street in the West Bank following the assassination of the Qassam Brigades' leader Sheikh Ahmed Jabari on Wednesday afternoon in Gaza City by Israeli forces.
The cities of Ramallah and Al-Bireh witnessed many rallies condemning the occupation aggression.