Palestine
Palestinians-protest-Gaza Strip 14 Palestinians shot dead as Gazans hold mass rallies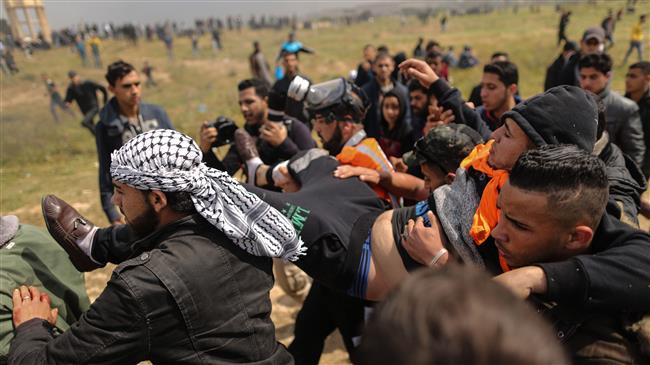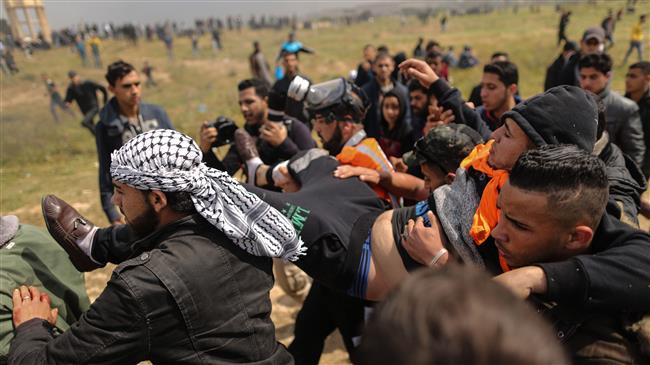 Palestinian medical officials say at least 14 Palestinians have lost their lives and more than a thousand others sustained injuries when Israeli military forces opened fire on thousands of protesters, who have flocked to a sit-in near the border fence between the Gaza Strip and occupied Palestinian territories.
Spokesman for the Gaza Ministry of Health, Ashraf al-Qidra, said three were fatally shot east of the southern Gaza Strip city of Khan Yunis, Jabalia, located 4 kilometers (2.5 miles) north of Gaza City as well as the border town of Rafah.
He identified the victims as 27-year-old Omar Wahid Abu Samour, Mohammed Kamal Al-Najjar, 25, and 38-year-old Mahmoud Muammar.
The fourth was Mohammed Abu Omar, 22, who was shot and killed east of Shuja'iyya neighborhood of Gaza City.
Ahmed Oudeh, 19, 33-year-old Jihad Farina and Mahmoud Sa'di Rahmi were all killed east of Gaza City as well.
A 22-year-old Palestinian man, identified as Ibrahim Abu Sha'ar, was also shot dead east of Rafah.
Abdel Fattah Bahjat Abdelnee, 18, and 42-year-old Abdul Qader Mardhi al-Hawajri also lost their lives in Israeli attacks shortly afterwards.
Four more Palestinian protesters were also killed in the Israeli assaults.
Al-Qidra added that nearly 1,500 protesters were also injured during the rally.
Amnesty International slams Israel's land expropriation policies
Meanwhile, human rights organization Amnesty International has condemned the Tel Aviv regime's policies of land confiscation and dispossession, calling on Israeli authorities to stop them.
The Britain-based organization, in a post published on its official Twitter page on Friday, stated Israel's policies of land theft exacerbate the sufferings of the Palestinian nation, and deprive them of their basic rights.
The Palestinian rally, dubbed the "Great March of Return," will last until May 15, which coincides with the 70th anniversary of Nakba Day (Day of Catastrophe) on which Israel was created.
Every year on May 15, Palestinians all over the world hold demonstrations to commemorate Nakba Day, which marks the anniversary of the forcible eviction of hundreds of thousands of Palestinians from their homeland by Israelis in 1948.
More than 760,000 Palestinians – now estimated to number nearly five million with their descendants – were driven out of their homes on May 14, 1948.
Since 1948, the Israeli regime has denied Palestinian refugees the right to return, despite United Nations resolutions and international law that upholds people's right to return to their homelands.
This year's Land Day demonstrations appear especially combustible as Palestinian anger is already high over US President Donald Trump's decision in December to recognize Jerusalem al-Quds as Israel's "capital."
Israel occupied the West Bank, East Jerusalem al-Quds and parts of Syria's Golan Heights during the Six-Day War in 1967. It later annexed East Jerusalem al-Quds in a move not recognized by the international community.
Israel is required to withdraw from all the territories seized in the war under the United Nations Security Council Resolution 242, adopted months after the Six-Day War, in November 1967, but the Tel Aviv regime has been in non-compliance of that piece of international law ever since.