Europe
Islam
Middle East
Palestine
Palestinians set to hold Friday of Rage over cartoons insulting Prophet, Macron's anti-Islam remarks
The preacher of the al-Aqsa Mosque and former Grand Mufti of Jerusalem al-Quds has called on Palestinians to observe a Friday of Rage across the Israeli-occupied territories in protest at publication of blasphemous cartoons of the Prophet Muhammad (PBUH) in France and French President Emmanuel Macron's support for for the move.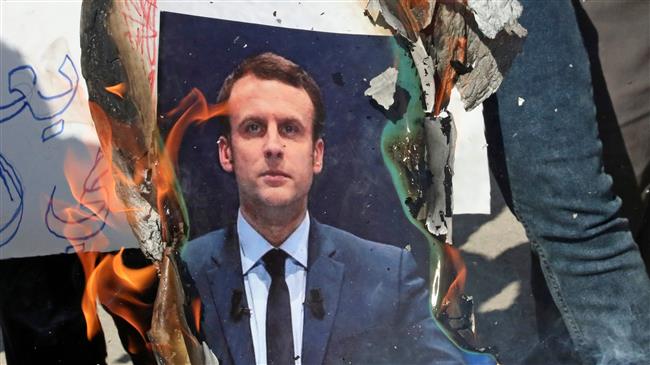 On Thursday, Sheikh Ekrima Sa'id Sabri called on Palestinians from all walks of life to prove their allegiance to Islam's Prophet and unite against any insult to him.
"Muslims condemn publication of blasphemous cartoons insulting the Prophet Muhammad (PBUH), and firmly oppose such uncivilized conduct," the distinguished Palestinian religious leader pointed out.
He added, "These offensive caricatures contradict the principles of free speech as well as freedom of opinion. They run counter to what they claim. Such behavior is nothing but mockery and ridicule indeed."
On October 16, French teacher Samuel Paty was beheaded outside his school in a Paris suburb by an 18-year-old assailant of Chechen origin, identified as Abdullakh Anzorov. He had shown the caricatures during a lesson about free speech.
While eulogizing the history teacher a few days later, Macron said France would not renounce its display of the blasphemous cartoons.
French consulate guard wounded in Jeddah knife attack
Meanwhile, a Saudi national wounded a guard in a knife attack at the French consulate in the country's Red Sea port city of Jeddah on Thursday.
Police officials in Mecca province, where Jeddah is situated, said the attacker, whose identity was not immediately disclosed, was a Saudi citizen.
They did not provide any information about the nationality of the guard, and only said he had sustained minor injuries.
"The assailant was apprehended by Saudi security forces immediately after the attack. The guard was taken to hospital and his life is not in danger," the French embassy in Riyadh said in a statement.
The diplomatic mission strongly condemned the attack, and urged its nationals in the ultra-conservative Persian Gulf kingdom to exercise "extreme vigilance."
Somalia condemns Prophet cartoons, Macron's support
Separately, Somalia on Thursday condemned comments by the French president supporting cartoons depicting the Prophet Muhammed.
"The Federal Government of Somalia regrets the violation of the faith, sanctity, and theology of the Muslim people, and our Prophet Muhammad, peace and blessings be upon him," the Somali Presidency said in a statement.
"Any act that harms the feelings of Muslims serves the interests of extremist groups, and such acts should be avoided as they create social hatred among people of different nations and religions," it added.
The Horn of Africa nation then urged the world leaders to carefully consider statements that provoke the sentiments of Muslims by distinguishing between freedom of expression and violation of religious sanctities.
On Wednesday, hundreds of people protested in the Somali capital Mogadishu against Macron's controversial remarks.