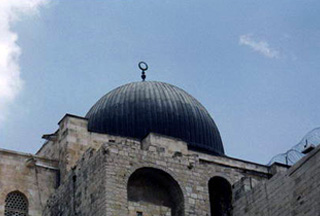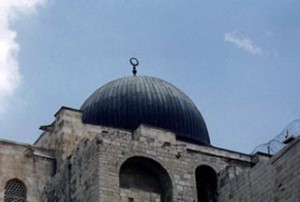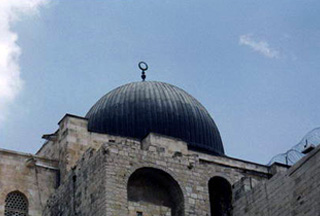 Palestinian factions have called for a demonstration at the al-Aqsa Mosque and staging a general strike and protests throughout the nation to condemn the desecration of the holy site by Israelis.
The Islamic Resistance Movement of Hamas declared Friday as a Day of Rage and urged mass attendance of Friday prayers as well as a rally at the Muslims' cared shrine in response to the recent Israeli blasphemy.
Fatah Central Committee, the movement's highest governing body, has meanwhile demanded a general strike calling for Palestinians' 'steadfastness and determination' to keep hold of their holy sites.
The committee also called for peaceful demonstrations that would show al-Quds (Jerusalem) is Palestinians' 'eternal capital' and the future seat of government in an independent state.
Clashes erupted early last Sunday after a group of Jewish radicals broke into the yard of al-Aqsa Mosque an attacked Palestinians . About 16 Palestinians were injured in the clashes, according to media reports.
The incident made the Secretary General of the Organization of the Islamic Conference (OIC), Ekmeleddin Ihsanoglu, express disapproval over the incursion by Israeli extremists. He called upon the international community to exert pressure on Israel and force it to halt such flagrant violations.
Hamas official Mushir al-Masri in addition said the injury of several Palestinians in clashes with Israeli extremists who broke into the yard of al-Aqsa mosque was 'the fruit of the tripartite meeting' in Washington between acting Palestinian Authority chief, Mahmoud Abbas, Israeli Prime Minister Benjamin Netanyahu and US President Barack Obama.
Last Monday, demonstrators in Amman set the Israeli flag on fire and called on the government officials to sever diplomatic relations with Tel Aviv in reaction to Israeli soldiers' breaking into the Muslim sacred shrine.
Dozens of trade unionists and politicians meanwhile staged a sit-in in front of the headquarters of Jordan's Professional Association Council. Protesters held banners reading, "Our blood is shed for you, our souls are sacrificed for your sanctity. We swear to you, Aqsa, that we will never forget you".
Muslims consider the trespass into the al-Aqsa Mosque yard as part of a Judaization campaign that targets the holy city of al-Quds and a provocation of Muslim feelings.