Human Rights
North America
Parking lots offer safe haven for homeless Californians
Homeless people in the United States are preparing to spend a night in their cars, parked in a lot monitored by security guards, to avoid the threat of theft and assault.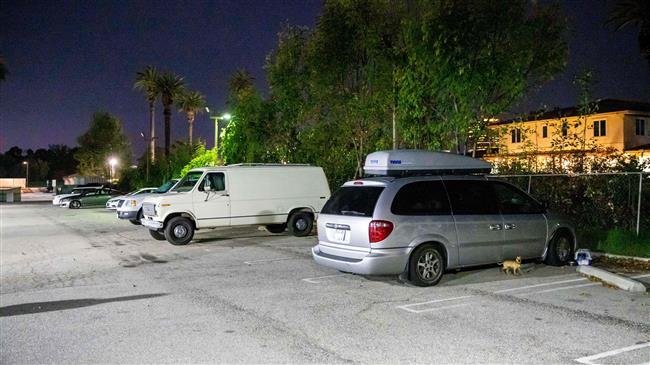 The "Safe Parking LA" program offers a temporary safe haven to some of the more than 15,500 people in the region who live in their vehicles.
Nearly 554,000 people in the United States were homeless in 2017, according to the US Department of Housing and Urban Development (HUD).  About 25 percent of them — or 134,000 — lived in California, the highest number of any state.
California also has the highest rate of so-called "unsheltered" homeless — meaning people who are living in vehicles, abandoned buildings, parks or on the street, according to HUD.
In Los Angeles county alone, there are some 53,000 homeless people, a huge increase from 2010, when the number stood at about 38,700, according to the Los Angeles Homeless Services Authority.
Carlos Gonzalez Jr is a 60-year-old US Army veteran who fell on hard times after suffering an elbow injury and has been living in a mobile home for the past couple years. For him, the safe parking program means he does not have to constantly move his car or face harassment.
Similar programs have been implemented elsewhere in California — including in the San Francisco Bay area — where skyrocketing housing prices have increasingly pushed low-income residents onto the streets.
Experts say the lack of affordable housing and soaring home costs are the key reasons for the dramatic spike in homelessness. They blame federal, state and local authorities for failing to develop a sound strategy to address a crisis that was years in the making.
In the meantime, programs like Safe Parking LA are gaining in popularity as authorities seek interim solutions.
(Source: AFP)