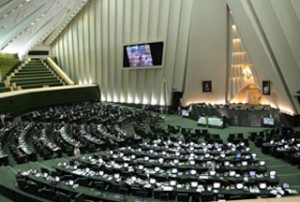 Iranian lawmakers have supported a decision by President Mahmoud Ahmadinejad to domestically enrich uranium to higher levels, saying it was an appropriate response to the growing Western pressure.
Ahead of the 31st anniversary of the 1979 Islamic Revolution, President Ahmadinejad ordered the country's nuclear agency to enrich uranium to 20 percent in order to meet the growing demand of Iranian cancer patients.
The Iranian president, who was speaking at the exhibition of Laser Science and Technology Achievements in Tehran on Sunday, said the country was still willing to negotiate a deal on fuel supply for the Tehran research reactor, which is slowly but steadily running out of fuel.
If the reactor's fuel completely dries up, there will be heavy consequences for thousands of Iranian patients, who desperately need post-surgery treatment with nuclear medicine.
On Monday, Iranian lawmaker Morteza Aghatehrani said the Tehran government will never fear, nor will it ever yield to Western pressure over its civilian nuclear plans.
"In about a year, the Westerners will see the [positive outcome] of the President's order," said Aghatehrani. "All they do is level threats against us. This should not terrify us and deter us from the peaceful procedure of our work."
Hamid Resayi, another senior lawmaker, said the presidential order to increase uranium enrichment was "the best possible response" to recent claims that Iran had backed down on its concerns over a Western-backed uranium exchange deal.
"There has recently been some rumors that the Iranian president has conceded to Western demands over the country's uranium enrichment," said Resayi in an interview with IRNA.
"Fortunately, the president has managed to put an end to these claims by issuing the order to begin uranium enrichment to a higher level," added Resayi.
His remarks were backed by Esmail Kowsari, a senior member of the Parliament's National Security and Foreign Policy Committee.
The West has no right to pressure Iran over its uranium enrichment, Kowsari said, adding that "we had warned them that if they refuse to abide by a legal framework in supplying our required, we will take the matter in our own hands."
"We need this fuel because there are a myriad of Iranian patients who need to receive radio-medicine and a wide range of treatments that can only be facilitated by the Tehran reactor," he noted.