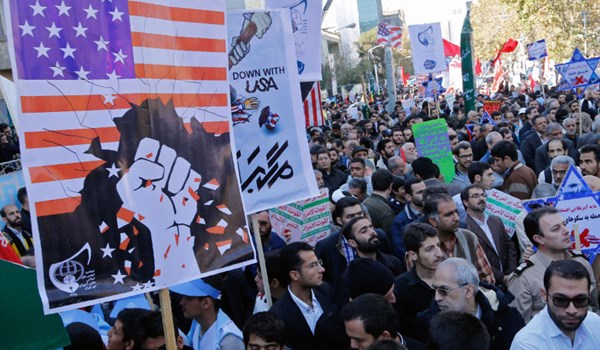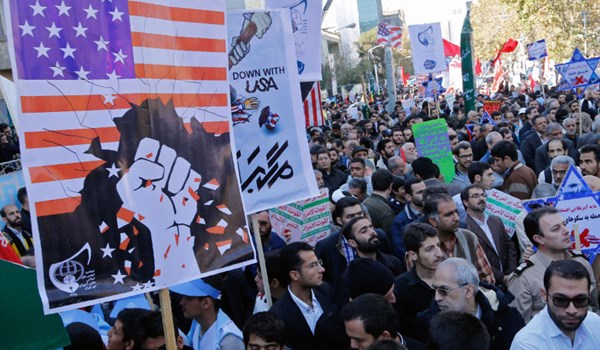 Iranian people in over 1,000 cities and regions of the country staged protest rallies to condemn the recent anti-Iran remarks and policies by US President Donald Trump.
People from all walks of life participated in anti-Trump rallies across different cities, towns and regions in Iran after the Friday prayers to deplore his recent comments against the country at the UN General Assembly meeting in New York.
"We strongly condemn the cheap, stupid and disgusting remarks by the ignorant US president, Donald Trump, against the holy religious system in Islamic Iran and want the honorable Iranian officials to confront the inhuman tricks of the Great Satan, the US, comprehensively," the final statement issued at the end of the rallies said on Friday.
"We still consider the US as the old enemy of humankind which nurtures the terrorists and is the main cause of insecurity in the world and declare our hatred for this brutal behavior and hostile policies," it added.
In relevant remarks on Wednesday, Iranian President Hassan Rouhani strongly blasted the recent statements by Trump in his address to the 72nd session of the United Nations General Assembly which, he said, was full of misinformation baseless allegations against the Iranian nation.
"The ignorant, ugly, spiteful literature of the US president, which was full of false information and groundless allegations, against the Iranian nation were beneath the dignity of the United Nations," President Rouhani said, addressing the 72nd session of the UN General Assembly in New York.
The Iranian president said that the nuclear deal, also known as the Joint Comprehensive Plan of Action (JCPOA), was an international agreement backed by the UN Security Council Resolution 2231.
"The JCPOA does not belong to one or two countries. The JCPOA is a UNSC document, which belongs to the entire international community," President Rouhani said.
Rouhani also responded to the US threat to scrap the deal, saying Iran would respond to any breach of the JCPOA.
"The Islamic Republic of Iran will not be the first country to violate the JCPOA, but will firmly and appropriately respond to any breach," he said.